FM regista. Here is a defensive midfielder role that is used in offensive tactics. Now you are wondering, why employ a defensive midfielder on a offensive team? Well, for element of surprise and unprecedented attack organizations.
Regista players abandon their position and run forward from time to time. Also start attacking positions like a playmaker. So, it is demanding both mentally and technically.
FM other defensive midfielder roles:
Regista role definition:
The regista is a more aggressive version of the deep-lying playmaker suitable for possession-oriented systems that press high up the pitch. Given complete freedom to dictate play from deep positions, the regista offers a dynamic and unpredictable creative outlet from behind the attack who seeks to maintain intense pressure by constantly looking for new chances as his more advanced teammates get into goalscoring positions.
The regista is only available with a support duty.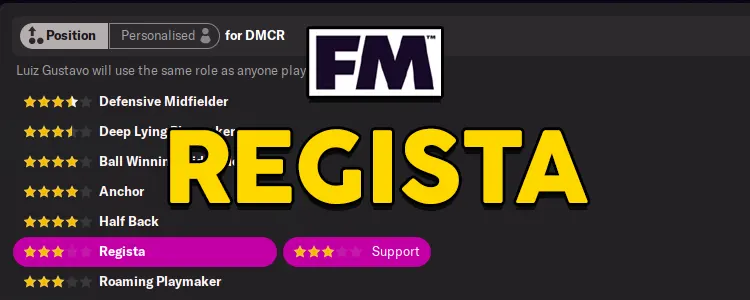 Regista is not a physically demanding role. Instead, mostly mental, and some technique attributes are important. Therefore you can pick your Regista players from older ages. Meaning more experienced mentally but weaker physically.
Since regista is a mental focused role, I highly suggest you to pick a player with good personality. Also avoid low-consistency players because low physique combined with low consistency is absolutely worst.
FM22 best regista traits:
Dictates tempo.
Plays one-twos.
Tries long range passes.
FM 22 Regista Players
Most talented, hard-working, and determined regista players of Football Manager 2022.
FM22 Best Registas
Fabian: Napoli's star player who can play in both midfielder and defensive midfielder positions.
Ismael Bennacer: Milan's 23 years old Algerian player. His attributes distributed really god for regista role.
Bruno Guimaraes: Newcastle just bought him for 43m. So, even though he would be a great addition to your team, I don't think you can sign him in the first season.
Remo Freuler: 29 years old tireless midfielder from Atalanta.
Lisandro Martinez: Versatile Argentinian playing for Ajax. Good both in defender centre and defensive midfielder positions.
FM22 Regista Wonderkids
Nico: Barcelona's promising youngster with a low minimum release fee. You can sign him early.
Eduardo Camavinga: Highest potential wonderkid of FM22.
Tanguy Nianzou: Super strong bull from Bayern.
Samuele Ricci: Torino's 19 years old Italian youngster.
Fabricio Diaz: Liverpool's Uruguayan wonderkid who can play in both midfielder and defensive midfielder positions.