Welcome to my compilation of best 5 FM22 flag packs. As you already know, default FM 22 flags are low resolution, and uninspiring. Thankfully it is really easy to fix. There are hundreds of FM22 packs to use for various improvements. But todays topic will be about FM22 flags.
Before we start, I want to share some interesting stuff.
FM22 best graphic packs:
Don't forget to get some of these graphical packs to improve your FM 22 visuals. It totally worth it. Anyway, let's get started.
FM22 flag patch files:
1.
Minimalist Circle Flag Pack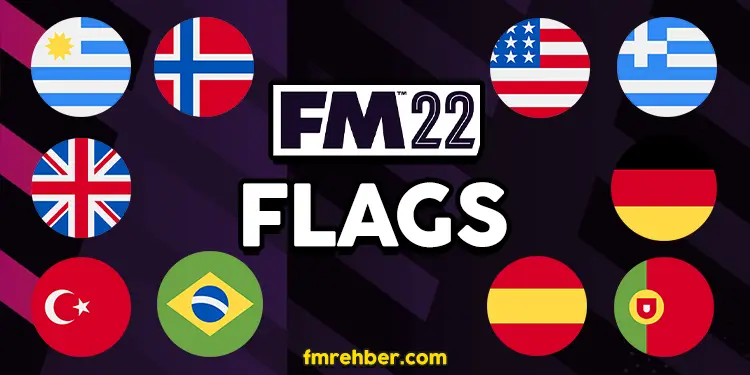 First flag pack in our list have a nice minimalistic style. Flag pictures in Minimalist Circle Flag Pack are circle. Which is quite interesting and unique.
If you like minimalism, go for it. But there are 4 more FM22 flag packs below. I highly suggest you to check them too.
Features:
6.9MB file size.
4.000 downloads.
Minimalistic circle flag design.
2.
Backgrounds – Nations Pack
This one is actually a background pack. It basically changes the nation backgrounds in FM22 by adding high resolution flag pictures. Atmosphere becomes great with this one. Especially for nation team managers.
Features:
38MB in size.
4.500 downloads.
2560×1600 flag resolution.
3.
Flag Patches & FOMA
You probably know DF11 from their face packs. These two flag patches are created by DF11.
First one have a ragged texture. You see feel the fabric details on it. Second one is smooth and shiny version. You can choose whichever you like best.
Features:
17MB and 9MB.
Thousands of downloads.
Two different texture option to choose.
4.
Flat Flags
Flat and most accurate version of flags are added to all national teams within the FM database.
Flag icons are taken from Freepik and looks amazing.
Features:
9MB.
2.000 downloads.
Flat flag design. Revision of wrong flag designs of FM22.
5.
Waving Flags Pack
A flag should wave! Waving Flags pack adds full HD waving nation flags to your game.
Top 5 flag pack of FM 22 ends here with one of my favorite patch. Thank you for tuning in. Don't forget to check the installation guide below.
Features:
9MB.
200 downloads.
Waving flag design for nations.
---
FM22 Flag Patch Installation
I am assuming you already have downloaded one or two flag packs from the link above. So, what is the next step? Installation of course. I will guide you through it.
FM22 graphics and flags folder:
Documents / Sports Interactive / Football Manager 2022 / Graphics / Pictures / Logos / Flags
If the graphics and folders inside it does not exist, you can create them manually. Then simply paste the pack files you have downloaded and unpacked before. That's it!
Now you are ready to run the game. It is time to enjoy brad new FM22.
My job is done here. Now it is your turn. Leave a nice comment below and join our discord channel for support.
Till later.