Hello and welcome to the FM 22 staff shortlist download page. For players, visit our FM 22 player shortlist download page. On this page you will find:
FM 22 physio shortlist.
FM22 coach shortlist.
FM 22 scout shortlist.
FM22 assistant manager shortlist.
Also if you don't want to download shortlist for FM 22, you can check the staff lists on this website. Links can be found below.
FM22 BEST HEAD OF YOUTH DEVELOPMENT
Okay, now let me share the downloadable FM 22 staff shortlist with you.
FM 22 Coach, Scout, Physio, Staff Shortlist Download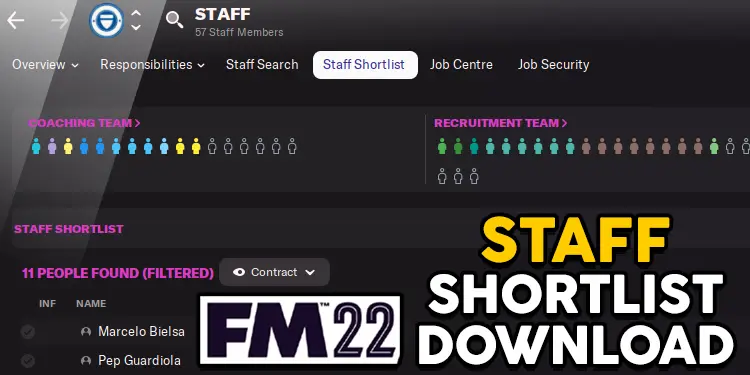 FM 22 staff shortlist download. If you have the steam version of Football Manager 2022, just click on the steam workshop link I provided. Then subscribe to the pack for free and launch your game. It should work like a charm. However, if you don't have steam version, you need to use the mediafire link to download shortlist.
MEDIAFIRE DOWNLOAD    STEAM WORKSHOP DOWNLOAD
Just download FM 22 staff shortlist from the mediafire link. If you are using non-steam version of the game of course.
C: / YOUR USERNAME / Documents / Sports Interactive / Football Manager 2022 / shortlists
After the copy-paste process, launch the game. It is okay if it is already launched. Click the staff on your left. Then pick the staff shortlist category above. From there click on the gear icon on your right to load or import shortlist. There you go, best FM 22 staff is now in your shortlist.
---
Thank you for visiting my website fellow FM fans! Please make sure to leave a nice comment for me and I will see you again soon. Take care now and have fun in your FM career.