Complete Football Manager personality guide. Best and worst FM personalities.
Each person has a unique character in life. Of course football players aren't an exception. Some players are known for their talent alone, but some also known for their leadership, character. Some are good, some are bad, and some are mixed.
Show me your friends and I will show you your future. Player with a good character will positively influence his teammates. Same thing goes for the bad personalities.
There are around 40 personalities in FM. Now let us review them from very good to worst.
There is my FM 22 personality guide:
1.
Very Good Player Personalities FM
Best player personalities in FM. These guys will perform excellent in both inside and outside the pitch. Not only they will fulfil their potential, but also their influence will lead your team to success. Don't be hesitate to use FM Genie Scout 22 to find players with these positive characters. Also it is possible to edit player personalities with FM 22 in game editor. Just don't over do it.
9 best FM personalities:
Perfectionist
Someone who always aspires to be the best.
High ambition, professionalism and determination.
Low temperament.
Fast learning preferred moves.
Perfectionist player can reach his potential in a really short amount of time. It is a player that never gives up. Cristiano Ronaldo is an example for this personality.
Professional
Real deal professional football player.
High professionalism.
Moderate temperament.
Always performs well in both training and pitch because of high professionalism. For example Kevin de Bruyne.
Driven
Determined to achieve his goals.
High determination.
At least moderate ambition.
Works hard in order to achieve his potential and goals. Lionel Messi is also driven.
Devoted
High focus and devotion.
High loyalty.
Very good determination.
It is really good to have a devoted player if you are managing his favorite team. Because he will do everything he can for his teams success.
Model Professional
Professional model for whole squad.
Maxed professionalism.
Moderate temperament.
Professional player might turn into a model professional at the age of 23-24.
One model professional player can increase the training rating of your whole squad. Also players with this personality can become an excellent mentors. For example Harry Kane.
Model Citizen
Model citizen with huge character. Highly influential in the squad.
Determination and all positive hidden abilities are minimum +15.
Would be a great help as long as he is happy in squad. If not, things might turn ugly.
Another top class mentor. My favorite model citizen in FM is N'Golo Kanté.
Born Leader
Spirited leader. Learn more about leadership on this wiki page.
Since they are born leaders, these guys does not need any leadership training.
Natural captains
Max determination and leadership.
Top leader in the squad hierarchy. Better keep your personal relationships in good terms.
Excellent mentors. There is only one born leader in FM 22 and his name is Gianluigi Buffon of course.
Charismatic Leader
Leader with charisma.
High leadership, professionalism, and temperament.
Can lead in matches and trainings. However, there aren't any charismatic leader in FM 22. But in later dates, charismatic leader regens might emerge in the youth intake dates. (Certainly is a small chance.) Of course you can always check out my FM 22 regen dates.
Leader
Third best squad captain personality.
19-20 leadership.
Not as good as charismatic leader or born leader. But still, highly influential and qualified squad leader.
Best one is Giorgio Chiellini at the moment.
2.
Good Player Personalities FM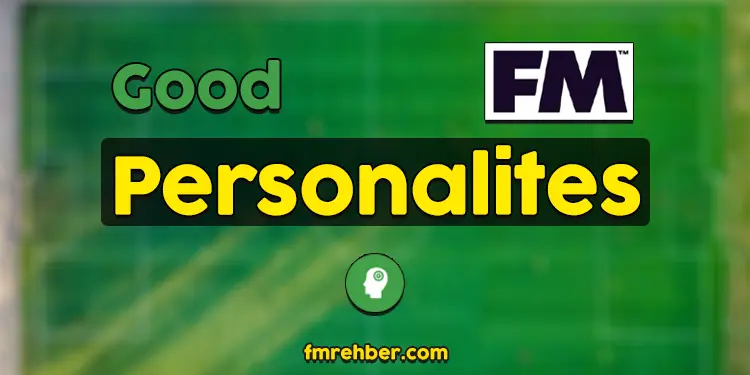 Not as good as very good personalities. Still, these are really good to have. Especially on the wonderkids, leaders, star players, etc.
Very Ambitious
Ambitious player that wants to have all.
Max level ambition.
Low loyalty.
This player will reach his potential in no time. However, might want to leave your club for a bigger contract.
Determined
Resolute player.
18-20 determination.
Low – moderate ambition.
Moderate – high professionalism.
His high determination makes him great mentor and also raises the determination of your squad.
Resilient
Mentally strong.
Very high pressure. Can handle anything.
Good determination.
No matter what happens in the pitch, he will never give up. Injuries or bad team dialogues can not break him no matter what. Luka Modrić is a good example.
Iron Willed
Resilient strong willed player.
Maximum level pressure.
Very high determination, mid-high professionalism.
Negative things have no effect on the iron willed players. His morale and concentration can never be broken. For example Ederson Stana de Moraes.
Realist
Materialist.
Moderate determination.
Low sportsmanship.
Does not throw the ball out during player injures. Sometimes may try to cheats the referee.
Spirited
Very active, lively and confident.
Good pressure.
Moderate professionalism.
Can handle negativities. Best example for this personality would be Robert Firmino.
Honest
Is honest in both training and pitch.
Very high sportsmanship.
Low determination.
His honest nature makes him popular amongst the fans.
Very Loyal
Good trait in gangster lifer.
Max level loyalty.
Low ambition.
Will do everything to stay at his current club. Always loyal to his teammates and staff members. If plays at his favorite team, his personality turns into devoted.
Loyal
Loyal but not completely.
17-18 loyalty.
Low ambition.
Can become very loyal or devoted after years of playing on the same club.
3.
Neutral Player Personalities FM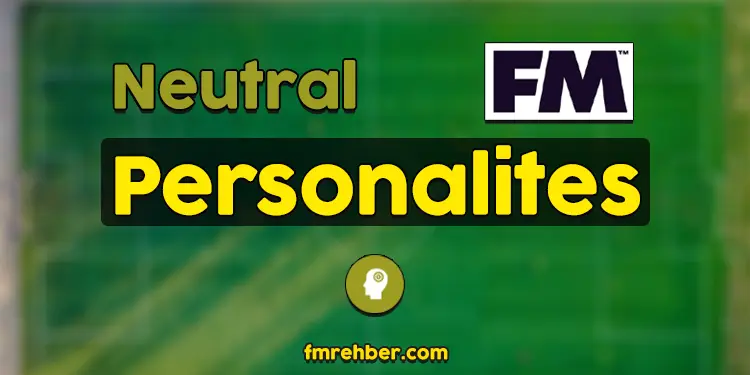 Football Manager player personalities that can neither be considered good nor bad.
Ambitious
Ambitious and always wants to win.
Mid-high ambition.
Low loyalty.
Because of his ambition, this player will do his best in training to reach his potential. However, low loyalty will make him pain in the ass to deal with.
Fairly Sporting
Kinda sporting.
Low aggression.
Low determination.
Rarely tries to injure or tilt his opponents. Therefore ends up getting almost zero red cards in his career.
Fairly Ambitious
Moderately ambitious character.
15-20 ambition.
10-20 loyalty.
Can develop quickly thanks to his ambition. Since loyalty is not abysmal in this personality, it is relatively easy to keep this player in the club.
Fairly Professional
Average professional character you meet everyday in life.
Fairly high professionalism.
Moderate-high dirtiness.
These guys are really professional. However, their dirtiness is really high to. Therefore making them fairly professional.
Balanced
Most average personality you can find in FM.
Almost all characteristic abilities are average and does not fit in any category. Development of these player can only be determined by other influences. Such as coaches, training facilities, mentors, etc.
Fairly Determined
Determined player.
High determination.
Moderate professionalism.
This personality is okay for young player development.
Sporting
Someone who is respected for his demeanor.
High sporting.
Low determination.
It would be really nice to mentor sporting personality with someone who has high determination.
Fairly Sporting
Half sporting.
Mid-high sporting.
Below average determination, professionalism and ambition.
Needs mentoring asap.
Fairly Loyal
Can be considered loyal.
Above average loyalty.
Average ambition and determination.
Basically, average team player or substitute.
Jovial
Happy person.
High pressure handling.
Average characteristic abilities.
Defeats, injuries, transfer rumors or discords can not lower his morale.
Light-Heated
Carefree.
High pressure handling.
Below average characteristic abilities.
Can become jovial or spirited after some mentoring.
4.
Bad Player Personalities FM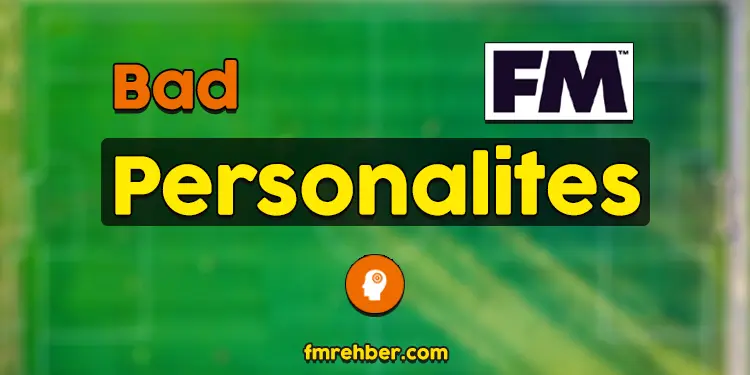 Bad player personalities that needs mentor trainings asap.
Mercenary
Always puts himself first and does not care much about the team. Also really loves the money.
High ambition.
Minimum loyalty.
Cups, competitions, friendship, and fans means nothing to mercenaries. All they care about is money.
Unsporting
Opposite of the sporting personality.
Average determination.
Minimum sporting.
Does not throw the ball out during injury situations. Shows no courtesy. Mentorship program can not help him.
Unambitious
Reluctant and unwilling to develop himself.
Very low ambition.
It is almost impossible to fulfil potential with an unambitious character. Don't ever sign unambitious players without making a mentoring plan beforehand.
Low Determination
Weak decision making mechanism.
1-5 determination.
Badly effects squad determination. Might be the sole reason of FM determination dropping in your squad. But the worst thing is, these players give up on match after conceding a single goal.
Low Self Belief
Low self esteem. Does not believe in himself.
Professionalism is between 2-3.
Again, low determination.
A player with this low determination and professionalism is condemned to failure. Only way to win them back is mentorship program.
5.
Worst Player Personalities FM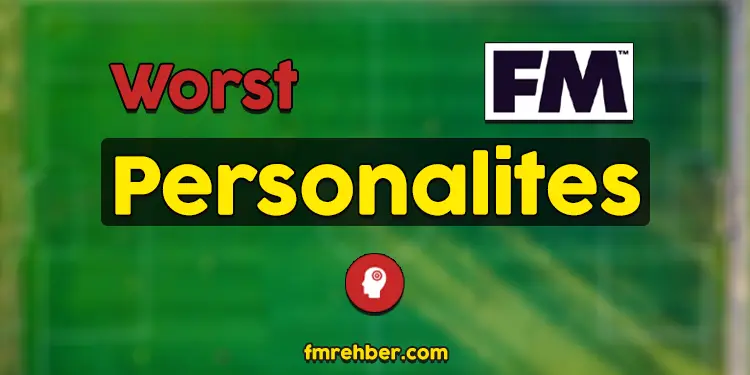 Really bad FM player personalities that you should avoid at all costs.
Casual
Has a relaxed personality.
Minimum personality.
Minimum determination.
Cares neither for the training nor the matches. Without a serious mentorship program, this person can never be a real football player.
Fickle
Untrustworthy.
High ambition.
Minimum loyalty.
This guy will not listen to you or the tactics given. Very hard to deal with.
Temperamental
An angry person.
Max dirtiness.
Low professionalism.
These guys are red card magnets. It is not possible to finish most matches with 10 person. Also might get into lots of arguments with his coach.
Easily Discouraged
His courage and concentration can easily lost.
Minimum determination.
Low ambition.
Players with low determination are prone to easily give up. Don't bother mentoring, just terminate contract.
Spineless
Unsteady.
Minimum pressure.
Average determination.
Loses his concentration with a slightest thing. Such as transfer rumors, goals conceded, bad dialogues, etc. Don't sign.
Slack
His lazy nature will negatively impact the matches.
Zero professionalism.
Very low determination.
A person cannot be a slack and a professional football player at the same time. Terminate his contract immediately.