Set pieces are really important in Football, as well as in FM series. Even underdog teams can win matches with a single set piece organization. So, that is why today I am sharing the best FM 22 set pieces with you.
The organizations I am sharing with you are highly tested and working like a charm. I am sure you will feel the difference. Especially if your team has quality free kick, throw in, and corner takers.
FM 22 BEST TACTIC < Complete team tactic.
We have the best FM22 set pieces on this page. However, if you are looking for the complete tactic set for everything, visit the page I provided above.
Now let's get back to our main topic. There are three set pieces available in FM. These are:
Corner routine.
Free kicks routines.
Throw-ins routines.
All three routines are included in a single .fmf FM set pieces file.
FM22 Set Piece Routines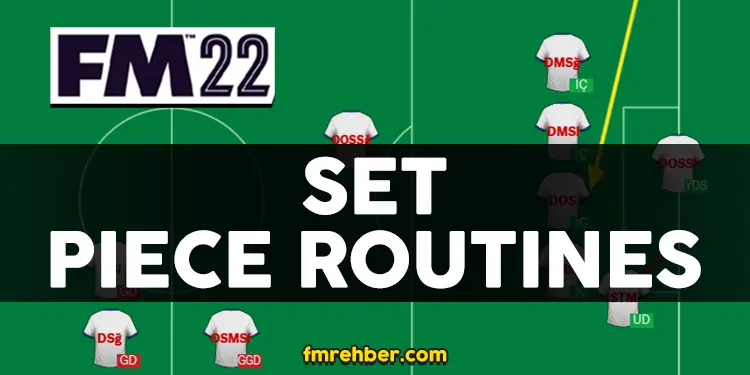 Assign wingers to corners and full backs to throw-ins if possible. This is the ideal orientation. Of course player abilities matter too. Don't forget to train your youngsters for set pieces from training > additional focus. It is quite useful.
There you go guys and gals, download FM 22 best set pieces:
Where to install FM22 set pieces? How to add FM22 set pieces? Let us proceed with the installation instructions.
First of all, download the set pieces from the link I provided above. Then I need you to copy it and paste to the set pieces folder. FM22 set pieces folder location:
C: \ Users \ Your Username \ Documents \ Sports Interactive \ Football Manager 2022 \ set pieces
Then run the game and go to your set pieces, click on organization, and press load all routines. Ta da! It is done. Now you can enjoy these professionally made set pieces.
FM22 routines included are:
Corner organizations.
Free kick organizations.
Throw in organizations.
Thank you for reading this. I hope it helps you on your career.
---
Now it's your turn. Make sure to leave a nice comment below and don't forget to join our discord channel. Take care, good bye.