Almost all football managership games have editors. Championship Manager 03 04 is not an exception to that. CM 03 04 also has an editor and it is called MCM0304. So, what does it do? Well, MCM0304 editor allows you to edit almost every parameter in the game. Including player nationalities. It is quite useful to CM 03 04 remove foreign player restrictions. There is also one more tool to mention, and it is CM 03 04 scout.
MCM0304 is an editor created and optimized specifically for CM 03 04. As I have said, with this editor you can edit parameters, such as club finances, player abilities, nationalities, player clubs, nations, divisions, etc. Even the hidden attributes are editable.
But most people use it for one thing. Editing transfer budgets. Yes it is considered cheating… However, if you are having fun, who cares right? Also the biggest editor cheat would be increasing young players potentials. Don't you want your youngsters to become world class stars?
Download CM 03 04 Editor MCM0304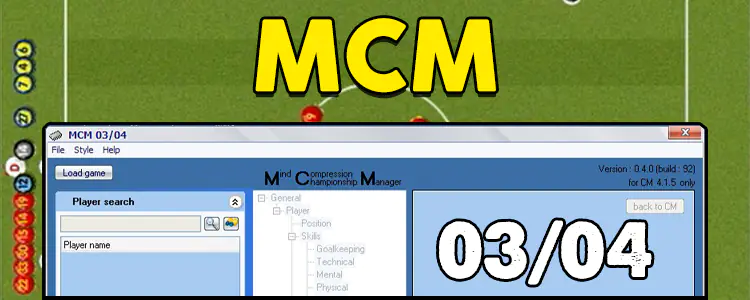 Here is the latest version of MCM0304 0.3.7. It's just 1MB in size. I have personally downloaded and used it. MCM0304 is completely free and have no viruses inside. Still, I need you to scan it first before using. Because our main concern should be safety. Use either you anti-virus tool or the website virus-total. Then you can run the editor. Anyway, here is the download address of CM 03 04 editor tool.
This is not an offline tool. MCM0304 is a sophisticated real-time in-game editor. That is why you should run the game and load your save first. Then you can run and use the editor perfectly.
CM0304 BEST PLAYERS    CM0304 BEST TACTIC
This article ends here. Thank you for reading. If you have any questions or thoughts you want to share, please use the comment section below. I am looking forward to hear you. Also you can join our discord channel for support! Looks like that's it, got to go.