Welcome to my FM 22 license fix guide! On this page you will find the latest FM 2022 license fix files. With an installation guide of course, on the bottom of this page.
Playing Football Manager 2022 with fake names is booooooring. It is highly unrealistic, immersion breaking, and simply not fun. But why fake names? Because there are tons of clubs, competitions, and organizations. It is not possible to make a license deal with all of them. We must understand this viewpoint.
Other FM 22 patches you might enjoy:
However, it doesn't mean that we are condemned to play with fake names. There is a player-made license patch called FM 2022 real name fix. Basically this fix replaces fake names with the real ones. Therefore making it a mandatory patch for a football manager simulation game in my opinion.
FM 22 Real Name Fix License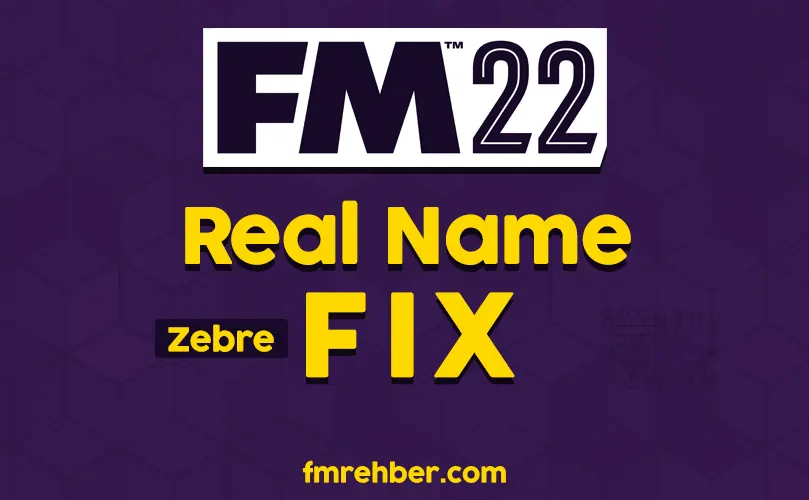 This is a fix made by FM scout and it's been around since 2013. You can get FM 22 real name fix from it's official page. It is %100 compatible with the latest updates. Even more, this fix works with existing saves.
FM22 real name fix patch properties:
Real name fix for all playable clubs names from all continents.
License fix for all major leagues names.
Even non-playable Europe top leagues club names are fixed.
Almost all minor leagues name fix.
Fixes for all Continental, National and National cups names.
Real names for continental awards.
Corrected stadium names.
As you can see, FM 2022 real name fix solves all license problems. Therefore offering its users a %100 realistic gameplay experience.
I mean this is not a fictional game, it is almost a simulation. That is why real names are important. In case you are wondering this patch includes FM22 Zebre fix along with Germany, Brazil, Portugal, and Spain fixes.
FM 2022 License Patch Installation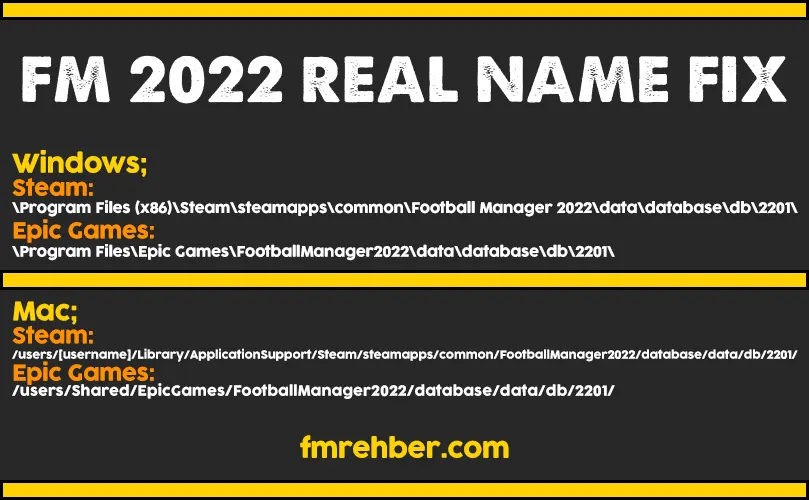 Firstly, download the FM 22 license patch from here. Which is only a 100KB archive file. Secondly extract the archive for a temporary location. We are going to need it couple of seconds later. By the way this fix is completely free.
Now get yourselves ready because FM 22 real name fix installation guide starts here. But beware, since this is a complicated installation, steps must be followed accordingly.
2201 folder must be found first.
Windows;


Steam:

\Program Files (x86)\Steam\steamapps\common\Football Manager 2022\data\database\db\2210\


Epic Games:

\Program Files\Epic Games\FootballManager2022\data\database\db\2210\
Mac;


Steam:

/users/[username]/Library/Application Support/Steam/steamapps/common/Football Manager 2022/database/data/db/2210/


Epic Games:

/users/Shared/Epic Games/Football Manager 2022/database/data/db/2210/
Now open the inc folder and go to the all subfolder. Then simply delete fake.lnc, lic_dan_swe_fra.lnc, and nleague.lnc files. These deleted files must be replaced with M22 Fix by FMScout.lnc, and FM22 Club Names by FMScout.lnc files which you downloaded earlier.
This time you must go 2 folders up and find the edt folder, there is a sub folder called permanent inside. From there, delete the fake.edt.
Again, go 2 folders back to find the dbc folder. There is another permanent folder inside. Open it and delete all six files. They are called Zebra award.dbc, zebra turin fake staff.dbc, brazil_kits.dbc, forbidden names.dbc, Licensing2.dbc, and Licensing2_chn.dbc.
Finally, simply open Football Manager 2022 and enjoy it with %100 real names.
---
Thank you guys for reading this article. Now make sure to leave a nice comment below for me. 🙂 And if you have any questions, I will be glad to answer. Now have fun! Take care and I will see you soon.