Best FM 22 stadium pack files. Stadium atmosphere is one of the key elements of football. The chants, singing, fans, even the very air is mind boggling in big stadiums. Those who watched football in a stadium already knows what I am talking about. It is an surreal experience.
So, this pack tries to bring the small percentage of that atmosphere to your game by adding real stadium pictures.
Other FM 22 graphics files you might be interested in:
You can check out FM rehber for other FM files, packs, tools, shortlists, tips, and etc. Because of the licensing stuff, lots of stuff is missing in vanilla Football Manager. Thankfully we have these mods.
FM22 Stadium Pack Download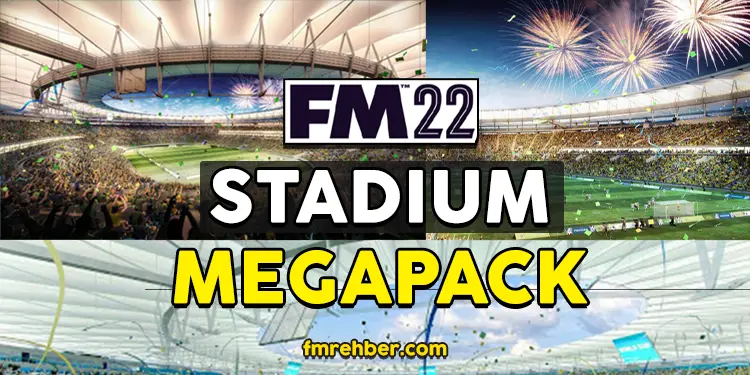 Three stadium packs released for the Football Manager 22. They are all equally good but my favorite is mini stadiums pack.
By the way, since there are no slots to show stadium pictures in the vanilla FM skin, you must get a new one. Check out my 7 best FM 22 skin pack compilation. My recommendation would be the FM22 Flut skin but it is up to you.
Mini Stadiums Pack FM22
This pack contains over 9.700 stadium pictures from around 50 countries and 100 divisions.
Download < Official page.
Downloaded 12.000 times so far and is only 668MB. Therefore making it the smallest in size among the three stadium packs.
FMT Stadium Megapack FM22
Second pack has less pictures but bigger in the file size. FM 22 FMT stadium pack contains 4.000 high resolution stadium packs. Only the most popular stadiums included from all around the world.
Download < Official page.
1.6GB file size, 15.000 download for the FMT stadium megapack.
Stadium Backgrounds FM22
This one works with the vanilla skin because it adds stadium pictures to the club backgrounds.
DOWNLOAD < Official page.
Stadium backgrounds patch covers 223 countries which is pretty impressive. Filesize is 1.8GB in case you are wondering.
FM stadium pack installation is really simple. Just download your favorite stadium file. Then copy/paste it to the graphics folder.
Documents / Sports Interactive / Football Manager 2022 / graphics
---
Thank you for visiting FM rehber. Make sure to leave a comment below and add this website to your browser bookmarks.
Our discord channel is also free to join. Finally, have fun on your career, good bye for now.