Are you looking for the latest FM22 transfers & data update? Well, you just have found it. Welcome to our FM 22 transfer update page. All information on the latest transfers are taken from Transfermarkt website. For this seasons latest squads, download the FM 22 data update. Also visit my FM 22 best transfers shortlist right after starting your new career, it is quite useful.
FM 22 SKIN PACK    FM 22 BEST TACTIC
Sports Interactive is releasing a new Football Manager game each year. Most people instantly buy the new one for the updated squads. Not for the innovations. However, FM games released in the 12 month periods. So, one must either wait for the new FM game or simply install the FM22 last transfer update.
FM22 Transfer Data Update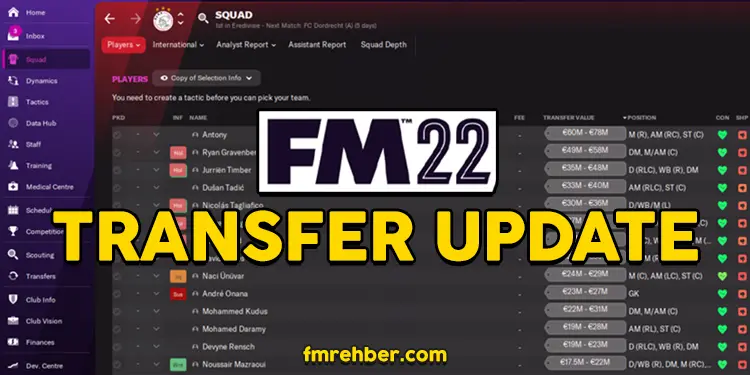 Here is the weekly updated FM 22 transfer pack. This 700KB transfer database is now downloaded more than 33.000 times. It seems this pack is quite popular among the fans.
I will be sharing the official pack website below. So that you won't have any trust issues while downloading this database. By the way, huge thanks to the creator of this pack TheNotoriousPr0.
OFFICIAL PAGE < Download FM 22 transfer update.
Here is the transfer data update pack features:
Latest transfer updates.
Staff transfers.
Missing players.
Missing personnel.
New wonderkids. (Can be toggled on or off.)
Missing leagues. (Qatar, India, Greece, and Cyprus.)
FM 22 WONDERKIDS    FM 22 BEST TRANSFERS
Download the latest FM 22 transfer update from the official link I provided above. But don't forget, you need to create a new career for this update to work.
Transfer Pack Installation Guide for FM 2022
You need only to follow the easy steps I shared below. If you follow them in the correct order, the package will work like a charm. Of course first, you need to download the package.
How to install a FM transfer pack?
FM22 transfer pack installation location:
Documents / Sports Interactive / Football Manager 2022 / editor data
Copy and paste the pack file to the editor data folder I mentioned before. Because it is a database file.
Run the game and start a new career. Then choose the database file you just downloaded and installed. My FM 22 best leagues to load guide can help you on this step.
That's it, enjoy your FM22 new career with latest transfer updates.
Installation is quite simple as you can see. Good luck on your career, best wishes.
FM 22 LOGO PACK    FM 22 KITS PACK
FACEPACK FM22    LICENSE FIX FM22
Now it's your turn. I need you to leave a comment below, add this website to your bookmarks, and join our discord channel. It is the support you gave that keeps me going. Catch you later.