More than 1230 real life trophies will be added to your game with FM 22 trophy pack. Vanilla FM22 already have some trophies and awards in it. However, most of them are missing or fake. In order to fix that issue and make FM 22 much more realistic, we are using FM22 trophies pack. It is a small addon, but highly enhances the gaming atmosphere. I really like it and I'm sure you will too.
There are more than hundred playable leagues in FM, including the lower leagues. Developers couldn't add real life trophy pictures to all of them for various reasons. Luckily there are FM lovers who doesn't mind creating these awesome realism packages for all. Football Manager is a simulation game, thus each and every pack increasing realism are welcome.
FM22 license fix is also a realism addon you might want to use. After all, nobody want's to see fake names in FM such as Zebre, SAN, SPO, etc.
All in all, graphic and realism packs increases immersion in this football simulation game. That is why we love them.
Other FM22 graphic packs:
FM 22 Trophies Pack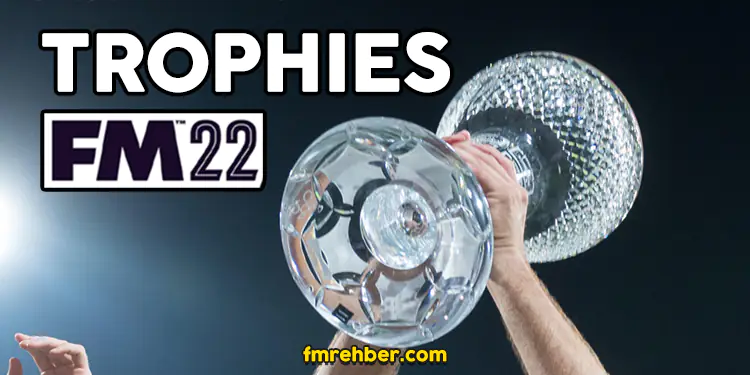 Football Manager is a text-based game. Graphical aspect of it is so little. Therefore even the smallest graphical addon is highly important. Because the real fun and immersion is hidden in small details.
It must be remembered that the footballs most important thing is trophies. Players, coaches, and managers always dreams of winning the next trophy. The trophy is the reward of all seasons work. For that reason I really value this FM22 trophy pack. There you go, here is the download link of massive work.
Pack file is around 86MB. It doesn't slow your game at all, so, you can use it even with old computers. The download number is around 85.000 more or less. That alone says something about the popularity of this graphic addon.
First, download the files and unpack the archive. Then, we shall get the to installation process.
Here is the location of graphics folder where you must move the mod files:
Documents \ Sports Interactive \ Football Manager 2022 \ graphics \
Paste copied pack files and be done with it. Now you can run the game and enjoy!
---
That would be all. We can end the real FM22 trophy pack article here. Have fun and good luck on your football manager career!
My job is done here. Now it is your turn. Leave a nice comment below and join our discord channel. Your support is highly appreciated. So, good bye for now, till later.