Latest update is at FM 23 3D kits article. Welcome back to the FM 2022 3D kits page. For regular kits go for our FM 22 kits page. But for 3D kits, you are on the correct page. FM 22 3D kits are specifically designed for 3D match engine. Believe me, you will really enjoy these 3D kits of 2021 / 2022 season during your gameplay.
Important FM 22 pack files:
FM 22 LOGO PACK      FM 22 FACEPACK
FM 22 LICENSE FIX      FM 22 PITCH TEXTURES
So, what does FM22 3D kits pack do exactly? Well of course it will replace the fake in-game 3D kits with real ones.
Because of some copyrighting issues, in-game kits are not same with the real club kits. Unfortunately this breaks immersion. But thankfully this pack files solves this issue so that we can enjoy 3D match engine with more realism.
FM22 3D Kits Megapack
Let us not waste any more time shall we? Here is the official page where you can get the latest 3D kits for Football Manager 2022.
Currently there aren't many 3D kits available for FM 2022. Because the game is released recently and it takes time. Still we have few. Such as England, Spain, Belgium, Czech, Russia, Ukraine, Scotland, and Israel.
So, pick your favorite leagues and download them separately. You can install and stack these 3D kits all together. And create your own FM 2022 3D kits megapack.
England Premier League 3D KITS FM 22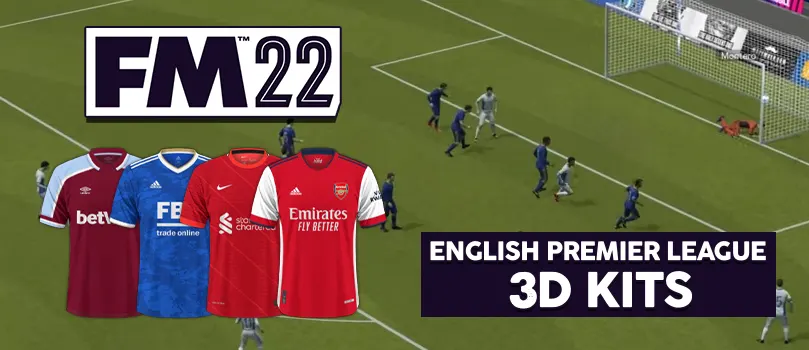 FM 22 English Premier League 3D kits. You can get the 3D kits pack for English Premier league from this page.
So, what does this pack include? It has English 3D kits of 2021/2020 season. From level 1 to 6 all the way down. Package is around 60MB. 10MB for each league level I guess.
English Premier League is the most challenging football league of all times. Therefore making it the best one! Of course I would like to enjoy this league with real club kits, not with the fake ones.
How to Install FM 2022 3D Kits?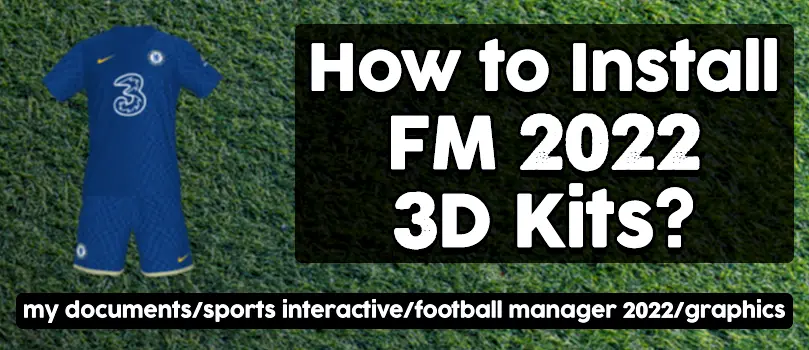 It is pretty easy actually. FM 3D kits installation steps:
Pick the 3D kits of your favorite leagues and download from the links previously I gave you.
Now you see these packages are archived. Once downloaded use .winrar, .winzip, or 7zip to unpack archive.
Then copy extracted patch files and paste to the graphics files inside your documents. Location can be found here:
MyDocuments/SportsInteractive/FootballManager2022/graphics
However, if graphics folder does not exist, you need to create it and name it by yourself.
Finally, run the game, go to preferences > advanced > interface, and clear cache. (Reload skin.)
Thank you for visiting my website. I hope I was helpful. If you have any question or want to add anything, just use the comment section below. And I will see you again soon. Take care now!