I have complied the best 3 CM 01 02 editor tools. Some of are real-time, some save-game editors. So, have a quick look and choose the best editor that suits your needs. You can try CM 01 02 scout tool also. It has better searching functionalities than editor but no editing option. Anyway, let us get back to our main topic, CM 01 02 editor download.
CM0102 CHEATS      CM0102 BEST TACTIC
CM0102 Save Game Editor
Save game editor allows you to edit your on-going career and the save-game. You can almost edit anything in your game. Even though it is a harmless thing to do, I recommend you to back-up your save file beforehand. Then you can edit with peace of mind.
Here is the official download-page of CM 01 02 save game editor. It's only 2.3MB and have been downloaded more than 55.000 times.
Features of easy-to-use CM 0102 save game editor:
Player search and edit.
Personnel edit.
Shortlist creation and import.
Instant player transfer.
Club, division, and nation editing.
CM Explorer 0102
Yet another CM0102 editor tool. So, what is the difference between save-game editor and CM explorer? The truth is, I have no idea. It's just an editor with different name and build.
CM Explorer is 30KB and downloaded 20.000 times so far, here is the download link. If you can find a difference, please let me know.
CM God Editor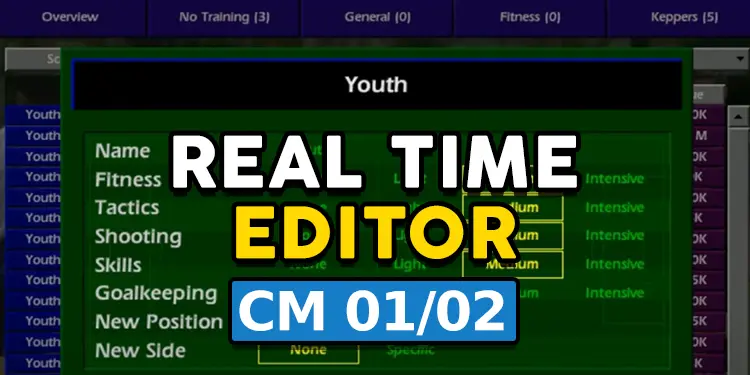 There, last and the best CM 01 02 editor. Why does CM God Editor is better than the other two I have mentioned? Because, CM God Editor allows you to do real-time in-game editing in CM 01 02. Although it has some bugs in it, there are nothing game-breaking. So, if you want to do real time editing while playing the game, get this editor. It is an editor but you can call it trainer if you will.
CM God Editor is also downloaded around 20.000 times and is 19MB in size.
Use this link in order to download CM 01 02 real time editor.
---
Did you enjoy this article? If so, you might also want to look at my CM 01 02 best players list. You can also leave a nice comment below and join our discord for support!
Thank you! Bye, till later.