Defensive midfielder is an anti-football position and role. However, sometimes you need to play defensive. Especially against clubs bigger than yours. Anyway, let's review the defensive midfielder role in FM. But don't mistake the position and the role. Defensive midfielder position can host many roles. We are talking about the role specifically today.
FM defensive midfielder role explained:
The defensive midfielder's main duties are to protect the defensive line from breaking attackers by closing them down quickly and to support the creative midfielders when in possession.
A key job of the defensive midfielder is to keep hold of the ball while the defence and attack are re-organising themselves after a period of opposition pressure.
With a defend duty, the defensive midfielder will hold his position between the midfield and defensive lines and recycle possession from a deep position.
With a support duty, the defensive midfielder will step into the midfield line and support attacking moves.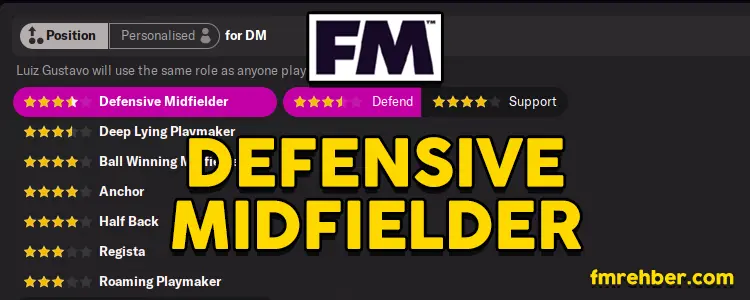 Most important attributes for defensive midfielders are tackling, positioning, concentration, anticipation, stamina, and strength. They don't really need to be fast. But team-work is important since it is a midfielder role.
It is a role that focuses mostly on mental attributes. So, you can use smart but old players for this role. Old players are especially useful if their character is good for both gameplay and mentoring.
FM22 best defensive midfielders traits:
Dives into tackles.
Runs with ball rarely.
Stays back at all times.
Refrains from taking long shots.
FM Defensive Midfielder Recommendations
FM22 defensive midfielders, best ones, and wonderkids can be found below.
FM22 Best Defensive Midfielders
Rodri: Best defensive midfielder of the world.
Fabinho: Liverpool's elite midfielder.
Declan Rice: 22 years old superstar of West Ham.
Marquinhos: Brazilian national player and PSG top player.
Oriol Romeu: Physically strong but slow defensive midfielder.
FM 22 Defensive Midfielder Wonderkids
Tanguy Nianzou: Bayern's wonderkid who can play in many positions.
Eduardo Camavinga: Real Madrid's next superstar!
Samuele Ricci: Resolute youngster from Torino.
Devyne Rensch: Very versatile wonderkid from Ajax u18 who can play in left full back, center defender, and defensive midfielder.
Aster Vranckx: Highly determined hard working midfielder of Wolfsburg.