Is your team not performing well on the pitch? Even with all these flashy transfers? Well that sucks. But it don't have to, not no more. Because now you can get the FM 22 best tactic from this page. Not one tactic too. I will share the top 5 FM 22 tactics.
So, how come these tactics are the best? Why is that? The answer is really simple. There is this website called FM arena. People upload their custom made tactics to this project. Finally, computer bots simulates 1000 FM 22 matches with these custom tactics. In order to determine which tactic manages to collect most points. ZaZ Blue tactic is ranking number one on the ledger at the moment. Which you can download from the links I provided below.
Tactics on this page are FM 22 .fmf files. Which can be exported to your game instantly. Meaning you don't have to adjust every single tactic piece manually.
There, FM 22 best tactics:
1.

ZaZ Blue DM FM 22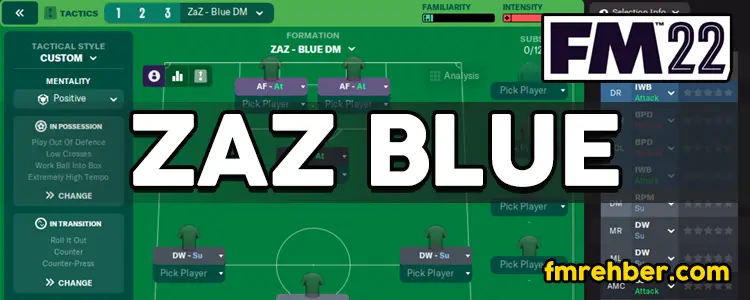 After testing thousands of tactics on thousands of games, FM arena bots determined the best FM 22 tactic. Which is ZaZ Blue DM for the moment. Until something better comes up. But it is not happening any time soon in my opinion. Turns out 4-3-3 is the best football manager 2022 formation.
ZaZ Blue is a 4-3-3 tactic with positive mentality. Two strikers and one attacking midfielder scores tons of goals on this formation. Here is the download link.
Fairly wide.
Offside trap.
Two strikers.
2.

Positive Tiki Taka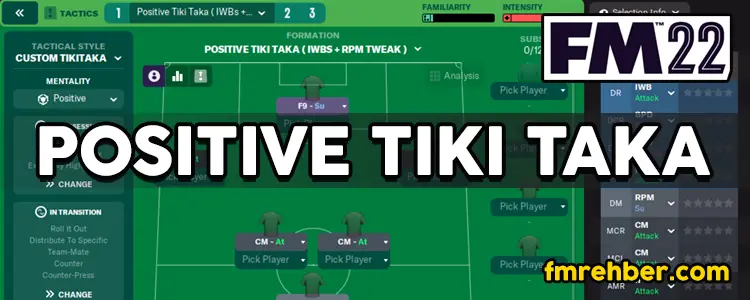 Ah, Spanish classic tiki taka. It turns out the second best tactic is called positive tiki taka. One striker, two wingers, two midfielders, one defensive midfielder and classic four defenders.
I know this one is the second best but if your players are more prone to this formation, just go on and try positive tiki taka. There you go, official link.
Positive mentality.
Short passing.
Extremely high tempo.
3.

Mongoose Rejuvenated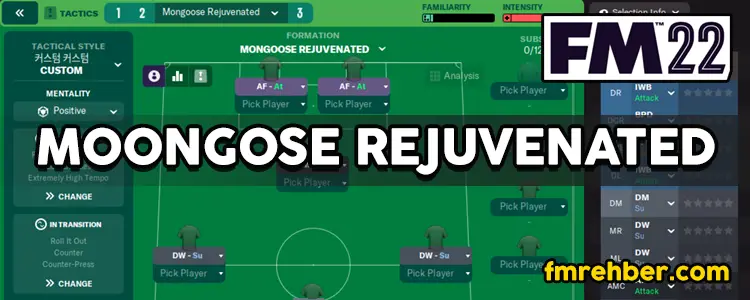 4-1-2-1-2 formation tactic Moongose rejuvenated can be downloaded from here. Created by CBp87.
Always counter press.
Counter attack.
Offside trap.
4.

Calcite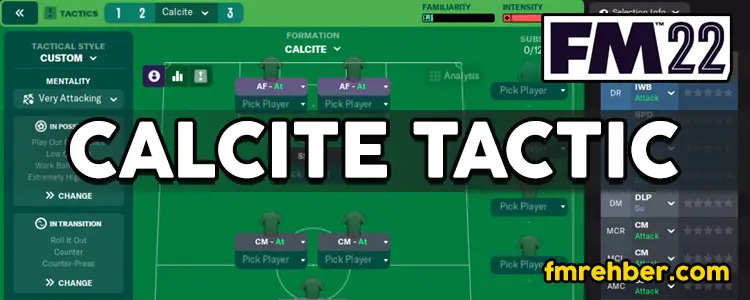 Calcite uses 4-1-2-1-2 formation with zero wingers. If your team lacks good wingers, you can try this tactic. At least until you managed to sign up some quality wingers.
Your two strikers will score tons of goals. Assists will be mostly done by your AMC. Finally, get this cool FM 22 tactic on this page.
Very Attacking.
Wide.
Slightly more direct passting.
5.

Arrowhead 1.3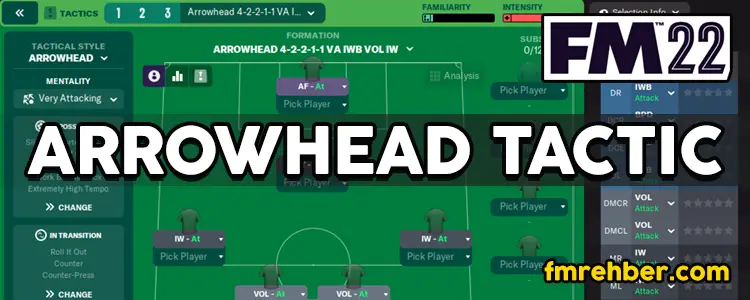 This 4-4-2 Arrowhead tactic will pierce your opponents defenses like a literal arrow head. Arrowhead tac uses very attacking mentality. Therefore requires fast defenders in order to repel counter attacks. If you enjoy traditional 442 just go for it.
Very attacking mentality.
Press.
Tempo.
---
All in all, if you are thinking to start a long term career, go for ZaZ Blue. Then you can slowly recruit players fit for the tactic. Because ZaZ Blue is the best FM22 tactic. Of course it is possible to have three different tactics in FM. You can take advantage of that for confusing your opponents and player rotations. Also visit FM 22 corner tactics.
Well thank you for reading this! Make sure to leave a nice comment for me and I will see you again soon. Bye for now, take care and I wish you the best on your manager career.