You will find the best CM 01 02 cheats on this page. There are many cheat methods in CM0102 such as, diablo tactic, godlike players, add manager, scout, editor, and more! So, take a look and choose the best cheat that suits you. However, be cautious while cheating, if you cheat too much the fun might go away.
I like to keep my cheating minimum because cheating too much removes the challenge. Without challenge, there is no purpose playing. Still, the main purpose of gaming should be having fun. That is why if you are enjoying, I recommend you to cheat all the way.
Cheat Players CM 01 02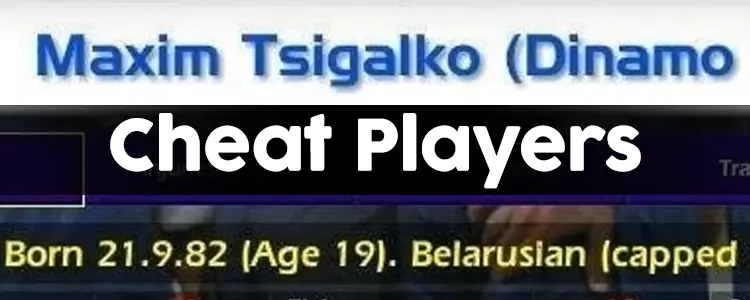 You can find multiple cheat players in both CM 01 02 and CM 03 04. The biggest cheat player of both games is of course legendary Maxim Tsigalko. It doesn't matter which team you are managing. Transfer Tsigalko and let him score hundreds of goals each season…
He is not alone too. There are other cheat players exist such as Toledo, Todorov, Roncatto, Amokachi, etc. To see rest of them, visit my CM 01 02 best players list. Now you have access to best players in CM 0102.
How about combining these god-like players with a superb tactic?
CM 01 02 Cheat Tactic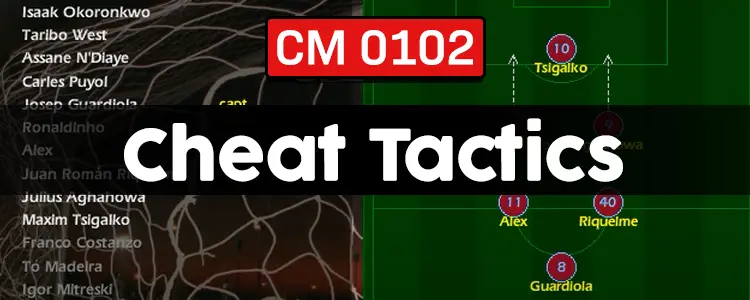 Best tactic in CM 01 02 is IodineFC. It is so good that it is almost a cheat. Because you will not lose a single game with this tactic in your division. Here is the CM0102 IodineFC cheat tactic.
This formation and tactic perfected throughout years. Therefore it is the perfect tactic against all opponents in the game. Even though it is only a tactic file, most people consider it to be the biggest cheat in CM0102.
Transfer Tsigalko, use Iodine tactic, and win all the cups!
Add Manager CM 01 02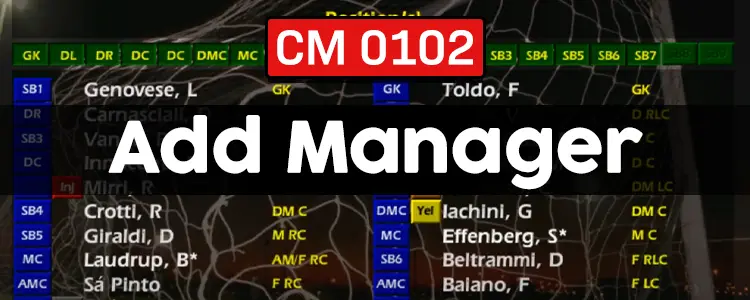 There you go, oldest cheat method of CM series, add manager. It is a classic and you already know how to do it. Still I want to give some examples of things you can do with add manager.
Take control of your next opponent and let them start the match with reserve team.
Sell your worst player for a super high price.
Buy the most expensive player for 0 transfer fee.
Add manager is a meme cheat and really fun to do. Just don't over-do-it because you might lose control.
CM 0102 Scout, Editor, and Cheat Engine
You can also use third party applications to cheat, such as scout, editor, and cheat engine.
Scout tool let's you find the best players. Then you can simply create a shortlist and import to your game. Scout also reveals players hidden attributes, which is a huge bonus. Download CM0102 scout.
CM 0102 editor is pretty similar to scout. But with a twist. With editor you can edit players attributes. However, that is really a big cheat I don't recommend it. Most people use editor for fixing injuries and increasing transfer budgets.
Finally let's talk about the cheat engine. It is an app to change parameters in most games, CM0102 included. So, with it you can basically do editing with many more options.
---
That was it. Now you know all the CM 01 02 cheats. I wish you success in your managership career, have fun!
Now it is your turn. For support you can leave a comment and join our discord channel. Thank you and good bye, till later.