Up-to-date best FM 23 kits pack files are on this page. So, what does a kits pack do? The FM23 kits pack simply adds real kit visuals to your game. As you already know, Football Manager uses fake club kits because of the copyright issues. Don't worry about it though. FM 23 kits megapack files replace those fake kits with %100 real life ones. All in all, you should get this kits mod pack before you think twice for a much more realistic gameplay experience.
Most popular FM 23 graphic files:
Also, you can visit the FM 23 3D kits for the 3D match engine version of this pack.
So let me summarize FM kits briefly. There are three different patch developers. They are all preparing FM 2023 kit packs, each in their own style. So, I've listed all the packages below so that you can download whichever one you like best.
There is one thing you should know before downloading one of these jersey packs. You must download the kits for the leagues you want one by one. Only Standard Kits were produced as a mega-pack, but there are only 7-8 leagues kits included in it.
Top three FM23 kits:
1.
FC'12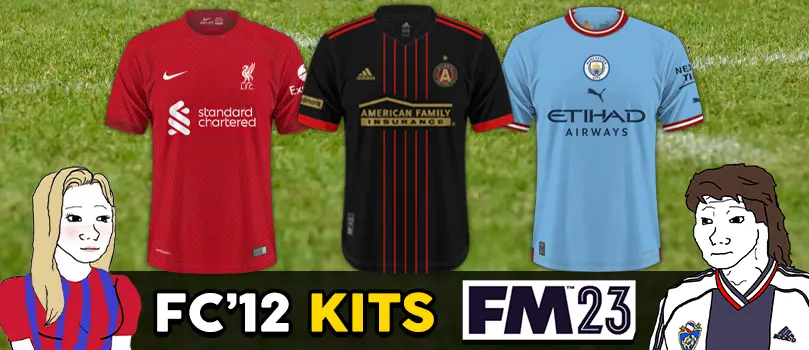 Up to date 2022 – 2023 club kits for 122 leagues. The FMSlovakia team has been releasing FM kits nonstop since 2014. Nothing has changed this year either. They have updated and released FM 2023 version as expected.
Completely up-to-date and high-quality kits images are ready for you.
Remember that you have to select the leagues you want to install one by one after clicking the dl-link above. Then you have to install separately. Although it's a little laborious process, the result is quite satisfying in my opinion.
2.
Standard Kits Megapack FM23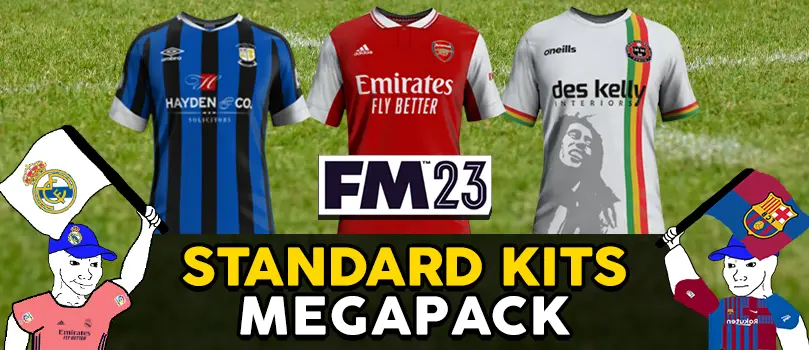 DOWNLOAD – FM23 kits megapack full.
There are 473 kits in the FM23 Standard Kits Megapack. This 30MB patch includes top tier leagues such as:
Premier League
LaLiga
Serie A – Monza / Napoli
Serie B
HNL 1 & 2
Eliteserien
Premier Division
Dutch Lower Leagues
World Cup nations
If you don't want to install the kits one by one, you can download this mega-pack plus the specific kits pack of the league you are playing to save time. I also found it more convenient to combine packages this way rather than dealing with them separately. Of course, the choice is yours. If you are a passionate FM fan, you can download and install jersey packs for all leagues one by one. It is true that it will be a bit tiring, but I guess it will worth.
3.
SS Kits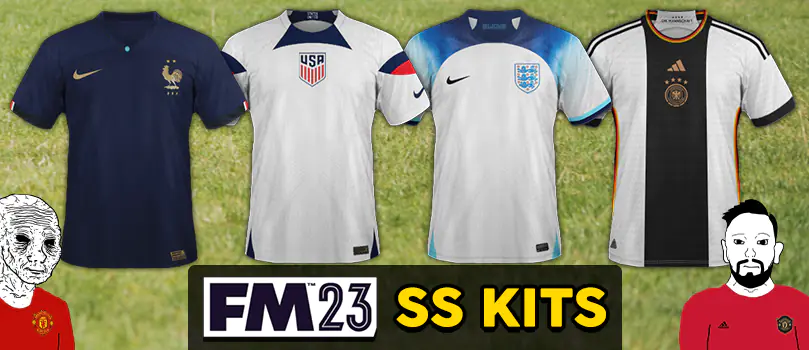 As of now, this package contains jersey images of leagues from 15 different countries. You can also download 2022 – 2023 world cup jerseys with SS Kits.
Kits of the country you are playing may not be included in this package. It's not a big deal, there are other kits packs on this page anyway.
For now, FM23 kits compilation ends here. But do not close the page right away, because you may need the installation guide below.
FM 23 Kits Graphic Pack Installation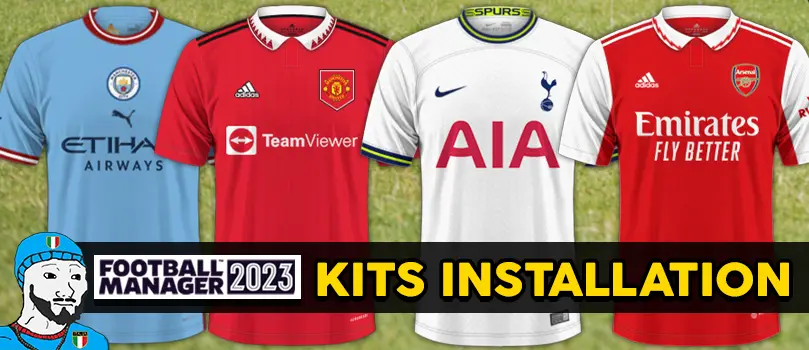 Have you downloaded at least one of the kits above? Then we can start the FM 23 kits package installation process.
If you played FM and installed a graphics patch in previous years, you already know the installation process. However, I will briefly explain the subject and show you where to install the FM jersey patch.
Here is how to install FM 2023 kits pack in 5 steps:
Download the most beautiful jersey package to your computer from the link above.
Unpack archive.
Copy pack files to the kits folder in documents. FM23 kits folder location:
Documents \ Sports Interactive \ Football Manager2023 \ graphics \ kits

If you followed the path correctly and there is no folder named kits in the graphics folder, create it yourself. Then repeat step 3.
Run the game and clear cache in preferences > interface settings.
Congratulations, you have completed the installation. From now on, 100% real jerseys will appear in your game. Believe me FM has never been so enjoyable. From now on, the game will be much more realistic and enjoyable.
If you want to support, leave a nice comment below and join our discord channel. See you in another Football Manager post, bye for now.