FMRTE is the abbreviation of Football Manager Real Time Editor. It only says editor in its name. However, FM 22 FMRTE have both scout and editor features. This all in one power tool will influence your gaming experience in the most positive way.
Other FM tools, FM22 FMRTE alternatives:
All editor and scout tools for FM 22 can be found in our website. Just click on the links above or check out the navigation menus on the top of this page.
Latest FM 22 FMRTE can do both scouting and editing with almost no limitation. It is a good all in one tool for FM.
FM22 FMRTE features:
Unlimited editing options on the FM player attributes. Hidden attributes are included too.
Club editing. It includes finances, fans, facilities, etc.
Detailed scouting filters as good as Genie Scout.
Mass editing. You can edit group of players, staff, or clubs in mere seconds with this option.
Competition and league editing. Mostly used for changing rules.
Healing injured players. Or injuring the healthy ones, evil…
One click transfer. You can transfer any player to any club you want with a single click.
FMRTE 22 Download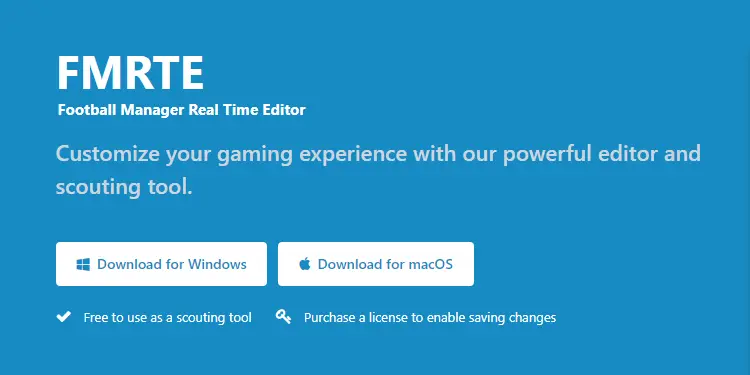 Latest version of the FMRTE for FM22 have been download 62.000 times so far. It's file size is 24MB. So, FMRTE is both free and paid software. Meaning, you can download and use its scouting features for free. However, in order to access the editing options, you need to buy the FM22 FMRTE license key.
FM 22 editor and scout program FMRTE is priced at 5.99€. Since it has more than 50 features, I'd say it is worth buying.
For downloading and buying, visit FMRTE official website. By the way, one license can be installed on three different devices. So, if you buy it with your friends, price drops to 2€ each. You can try our discord channel for finding FMRTE license partners.
I am not sure if there is a FM 22 FMRTE crack file. However, I high urge you to not use FM22 FMRTE crack or whatever. DO NOT USE ILLEGAL SOFTWARE. They are filled with viruses and might corrupt your computer. Even worse, your personel data might end up on the hands of internet criminals. So, please buy the original FMRTE 22 license key and support the developers.
---
Another FM22 tool review ends here. Thank you for reading, I hope this article was useful to you. Now it is your turn to be helpful.
For support, you can join our discord channel, add this website to your bookmarks and leave a nice comment below. Shouldn't take more than 1 minute right? See you around, take care.