Check FM 23 crack status for latest release. FM22 released at 10 November 2021. You can buy it from Steam, Epic Games, and couple of other platforms. Also its demo version is free on Steam. So, I am guessing you haven't bought the game yet. Is FM22 cracked yet? What is the FM 22 Crackwatch status?
Crackwatch is a notorious information website and it is all about games crack status. You could see if the game you choose cracked or not. However, Crackwatch is down at the moment. When its home-page visited, we will be back soon message appears. But its community still alive and well on the reddit / subreddit also called Crackwatch.
You can either check this page or the Crackwatch subreddit in or to stay updated on the FM 22 crack status. I will update this page if anything comes up. So, make sure to add this page to your browsers bookmarks.
Is FM 22 Cracked Yet?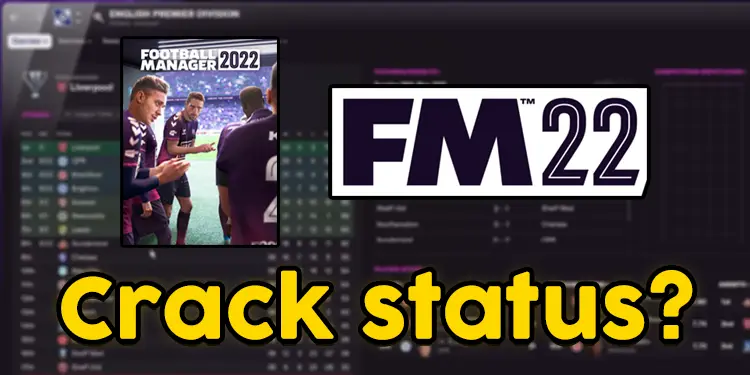 Is FM22 cracked yet? The answer is no, it is not cracked so far. But it will be, for sure. It's only a matter of time. If it does, I will let you guys know as soon as possible. Also you can check its crack status via reddit Crackwatch yourself.
FMrehber.com does not host, share, or promote cracks / illegal files. Please buy the game and support the developers. Pirating is not okay.
Football Manager 2022 is around 40£ – 50$ on the steam store. I wouldn't call it expensive but I guess it is for some people. Anyway, there is a cheaper alternative.
Cheapest option is FM22 Amazon Prime, but there are other options available too. Surprisingly, FM22 is available on the Xbox Game Pass (PC) for $9 a month. Besides this pass unlocks not only FM22, but also +100 games. Therefore making it the best alternative in my opinion. Do tell me on the comment section below what do you think.
Older FM crack dates & periods:
FM 23 crackwatch is also not cracked yet.
Is FM 22 cracked? No, not cracked so far. Unfortunately no one can give you the exact crack date.
21 FM: It took more than 200 days.
20 FM: Exactly 212 days after.
19 FM: It cracked 4 days after the initial release, however, this is an anomaly.
18 FM: 223 days.
17 FM: Denuvo was in its strongest state and this game cracked 236 days after.
16 FM: 58 days later. I guess Denuvo drm was fairly new on this period.
---
FM22 Crack
Last reminder, this website does not share, host, share, or promote any crack file. We are just giving information regarding the Football Manager 2022 crack status.
Let's say the FM 22 crack is out. It might be filled with viruses. There is no need to risk your computer. What's more, your personal data might be exposed to the hackers. Which is much worse than corrupting your PC. So, buying the original game is the best way to go. I don't want crypto miners to take over my computer. Do you? Of course not, nobody would want that.
In summary, FM 22 won't be getting cracked any time soon. Better buy the game from a trusted platform. Such as Steam, Epic Games, Xbox Game Plus, etc.