Complete FM 22 crash fix guide. Football Manager series have many problems. Players faced lots of errors in the last couple of years. Such as FM crash dump, Sports Interactive crash reporter, stopped working, critical error, etc. However, this year there are brand new errors. FM 22 error code 205 and DXGI_Error_Device are new but we can fix them too.
FM22 minimum system requirements:
Windows 7 64
Intel Core 2 or AMD Athlon 64 – 1.8GHz+
4 GB RAM
NVIDIA GeForce 9600M GT, AMD Radeon HD 3650 – 256MB or Intel GMA X4500
+10 GB available space
It is possible to solve FM error problems. Not all but most can be easily fixed. On the other hand, there are some problems that can't be solved. Specifically hardware errors and really old computers are pain in the ass.
FM22 Crash Error Fix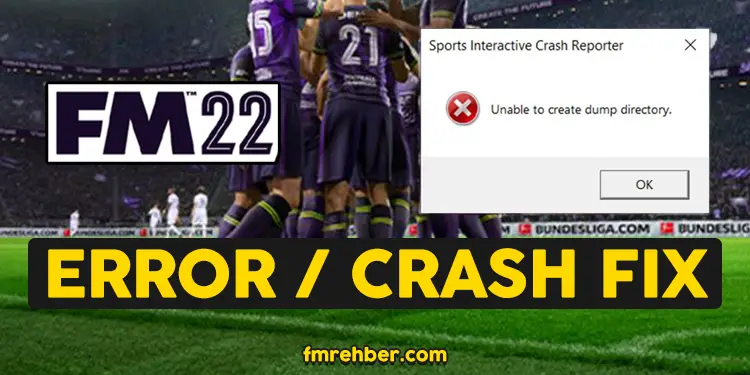 FM 22 something went wrong, application error, 0x80004005 Error, and many such cases can be fixed with 5 simple solutions.
We're sorry Football Manager has crashed. – Yeah, sure…
Try them one by one. I am sure one of these steps will solve your FM errors.
Best FM 22 crash fix solutions:
1.

Verify Game Files

Your game files might be corrupted due to various reasons. But it is not a big deal. Go to your Steam / Epic Games library, click on Football Manager 2022 and verify the files. Game files will be scanned to replace missing/corrupted files. This process might take up to 5 minutes.

If that does not solve your problem, uninstall and reinstall the game manually. That will fix the broken Football Manager 2022 files.
2.

Update Windows & Drivers

Does your Windows update itself automatically? If not, it is time to update it manually. Microsoft Windows gets updates regularly and if you fall behind, it is normal to encounter various errors.

Then of course the second step is updating your graphic card drivers. Graphic card updates are really important for gaming. Therefore outdated drivers might be the main reason of FM errors.
3.

Run As Administrator & Fix Compatibility

The error you are facing might be a permission error. Find and right click on the FM main exe. Then go to the compatibility tab.
Tick the box: Run as administrator.
Save, exit and try the game now with the administrator permissions. If it does not work go back to the compatibility tab and try Windows 8, 7, Vista, and XP. Who knows, a new compatibility mode might fix the game.
4.

Clear Caches and Preferences

Simply delete the FM 22 caches and preferences. Since they are temporary files, you need not to do back ups.

FM 22 cache folder:
C:\ Users \ Your Username \ AppData \ Local \ Sports Interactive \ Football Manager 2022 \ Cache
FM 22 preferences folder:
C:\ Users \ Your Username \ AppData \ Local \ Sports Interactive \ Football Manager 2022 \ Preferences
5.

Remove Corrupted Mods

Have you installed any FM mods, packs, or tools recently? Football Manager is getting new updates every now and then. Probably mods are created for older versions and causing issues now with the latest update.

FM 22 mod folder:
Documents / Sports Interactive / Football Manager 2022 / graphics
Clear the graphics folder and re-run the game.
Error Code 205
FM 2022
This is a FM 22 mobile error fix. Error code 205 is related to the store connection.
Why does this happen? Mostly the APK users are facing this issue. Please remove the APK and buy the game originally in order to avoid these errors.
However, if you already bought the game originally and still having this error, check your internet connection. Update your Android & IOS and re-install the game.
Game Unavailable FM22
FM22 game unavailable error means your game files are corrupted. Check out the FM22 crash fix solution number one I shared above.
If you can't verify the files, uninstall and reinstall the game. Because the problem is in the game files.
Either your game is not correctly installed or some files went missing after installation. These are small problems and easy to fix. However, if your hard disk drive breaking down, this error will persist.
DXGI_Error_Device FM 22
Hello fellow Nvidia user. DXGI_Error_Device error is not exclusive to FM22. This is known problem of Nvidia graphic cards.
In order to solve this, you need to update your graphic cards drivers. Still having this error even tough you updated your drivers? Well you need to completely remove any trace of your old graphic driver first. Then make a new clean install. You can use third party tools to completely remove your old graphic drivers data.
Also consider updating your Direct X, Microsoft Visual C++ x64, and Microsoft .NET Framework 4. Then run the game as administrator.
---
Please tell us the error you are getting and the fix that worked for you via the comment section below. That would be helpful to the other readers.
Don't forget to add this website to your bookmarks and join our discord channel. Have fun, see you around.