We suffer foreign player restrictions not only in CM 03 04 but in every other football managership game. It gets quite boring, especially in leagues with intense foreign player restrictions, such as England. The work permit is the worst! Unfortunately, the foreign player limit restricts us, the managers, from making decent transfers and forming good squads. That is why, today I will tell you how to remove foreign player restrictions from CM 03 04. Once you remove the foreign limit, you can transfer any player you want from the cm 03 04 wonderkids list.
For finding hidden local talents, you can use CM 03 04 scout tool too. But that's another days story.
Are you ready to remove foreign player restrictions? Ready or not, here we go! There are two different ways to approach this issue. The first one is using editor. And the second is choosing a team from a league with no foreign player restriction. This is and indirect solution but it works…
1.
CM 03 04 Editor Player Restrictions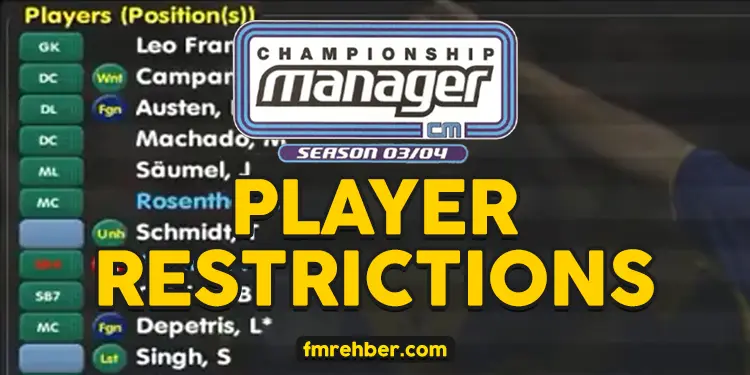 First of all, you need to download an editor for CM 03 04. I chose the MCM0304 for this matter. This is a live in-game editor that allows you to edit parameters without closing the game.
Unfortunately you can not edit the leagues rules for foreign player restrictions. However, it is possible to edit main and second nationalities of players. So, by editing players nationalities and adding them to EU citizenship, you can beat around the bush.
I wish it was possible to edit leagues rules via editor. But unfortunately it cannot be done in Championship Manager 03 04. I know editing player nationalities is cheating. Yet, it is the only way to have fun in this game… Because foreign player restrictions is a game breaking feature.
2.
Leagues Without Foreign Player Squad Restrictions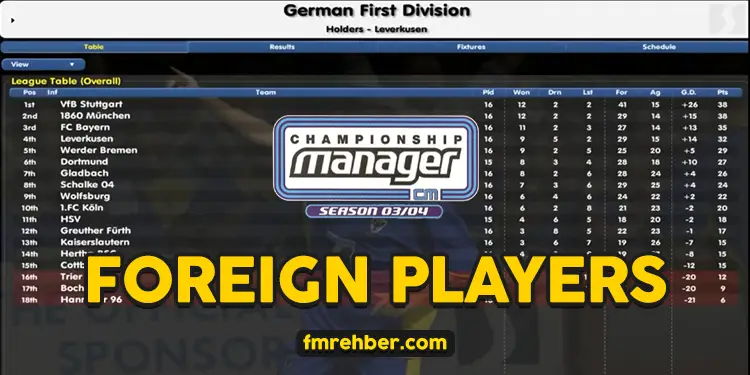 This isn't a solution really. Still, I want to talk about this method, for those who don't know about this.
There are no foreign player restrictions in Dutch and German football leagues. If you don't want to play with foreign player restrictions, choose one of these leagues. It is a viable way of not cheating and being free of player restrictions.
After choosing a club from either Dutch or German divisions, you can transfer any player you want. Because it is possible to register any player to squad. Also there are no work permit issues in these divisions. Just transfer all the wonderkids from all around the world. I wish other divisions too had this system.
CM0304 BEST TACTIC    CM0304 CHEATS
Anyway, that is all I can say about the CM 03 04 remove foreign player restrictions topic. I really hope this article helped you. So, leave a nice comment for me and I will see you around soon. Bye for now fellow football managership enjoyer.