Here is everything you need to know about FM goalkeeper role. As you already know, there are only 2 roles to assign a goalkeeper. First one is standard goalkeeper and the other one is sweeper keeper. Regular goalkeeper role is a little bit more classic, whereas sweeper keeper is widely accepted in the modern football. But keep in mind, I am not saying sweeper keeper is superior. There are still amazing classic goalkeepers and they are rocking the world.
Now let us begin the definition of FM goalkeeper role:
The goalkeeper role focuses on protecting his goal and making saves from shots and crosses. He is the last line of defence and is relied upon to help the team keep clean sheet.
The goalkeeper can distribute the ball in many ways. He can pass it short to his defenders, try to play out of defence, or he could play longer passes towards a target forward or a wide player.
This goalkeeper role is only available with a defend duty.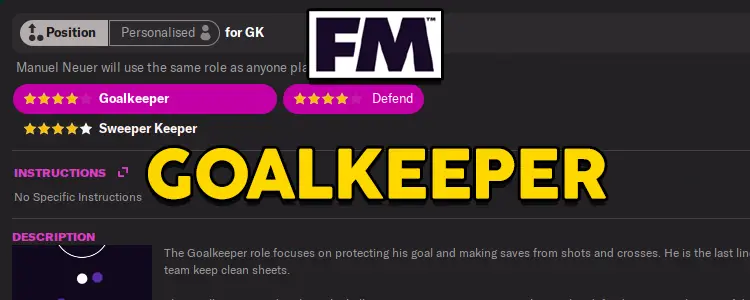 Goalkeeper role is much more simple. Therefore it is the best choice for young goalkeepers with limited potential. But if you have a wonderkid goalkeeper with tremendous potential, you should train him to be a sweeper keeper for maximum benefit.
Regular goalkeepers does not need passing, vision, acceleration, composure, rushing out, and first touch like sweeper keeper. The abilities I have just mentioned are hard to find on a goalkeeper anyway. Unless you are looking at a superstar regen of course, that is another story.
Finally I would like to talk about the goalkeeper training, additional focus. If your goalkeeper is young, train him agility. Because it is the most important physical attribute for a goalkeeper. However, after the age 22, I recommend GK Reactions training for increasing reflexes.
FM 22 Goalkeeper Recommendations
Well I already told you everything you need to know about FM 22 goalkeeper role. Now I would like to share the best ones on this role with you.
By the way, I did not include sweeper keepers on this list. Because it is a different role and will be mentioned on another page.
FM22 Best Goalkeepers
Here is the top 5 FM 22 players of the goalkeeper role.
Thibaut Courtois
Gianluigi Donnarumma
David De Gea
Aaron Ramsdale
Mike Maignan
FM22 Best Wonderkid Goalkeepers
My favorite FM 22 goalkeeper wonderkids with unbelievable potentials.
Maarten Vandevoordt
Ivan Martinez
Gavin Bazunu
Andre Gomes
Rome-Jayden Owusu-Oduro
James Trafford
Alejandro Iturbe