What is the difference between classic goalkeeper and sweeper keeper in FM series? The classic goalkeeper stays at his keep. Whereas sweeper keeper always leaves his keep to front with opposite attacks. Also sweeper keeper tries to play the ball with his feet, in order to start attacking positions. For more information about the tradition FM goalkeeper, visit the respective page. On this page, we are breaking down the FM sweeper keeper role.
In the modern football, sweeper keeper is preferred over traditional keeper. However, being a sweeper keeper is really a hard job and requires different set of skills. Therefore it is hard to find competent sweeper keepers in the football. The ones that are competent are highly expensive too.
The sweeper keeper aims to perform two roles, those of the standard goalkeeper and the outfield sweeper.
Alongside standard goalkeeping duties, he will sweep up balls in front of and wide of the penalty area and initiate counter attacking moves with direct through balls to breaking players.
With a defend duty, the sweeper keeper will be a lot more cautious, but still play counter-attacking balls when they are on.
Support duty, the sweeper keeper will stray just outside the penalty box and look to play counter attacking passes.
Finally, with an attack duty, the sweeper keeper will travel some distance outside his area and be happy to move out with the ball at his feet.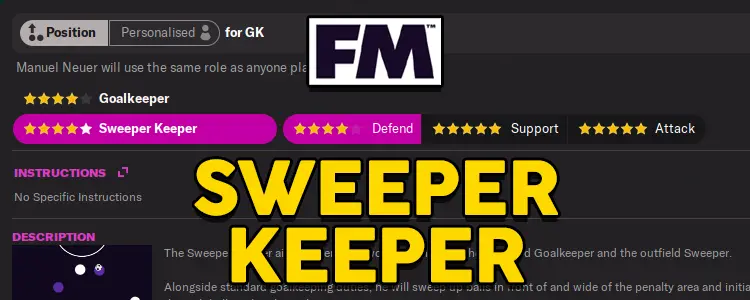 It is the best goalkeeper role for modern football. However, goalkeeper with good passing ability is hard to come by. You can raise a young one but he needs to have tremendous potential. Anyway, get a good sweeper keeper if you can afford it. Otherwise, you must choose classic regular keeper. Because it is hard to take sweeper keeper role without correct skill set.
Best player traits for sweeper keeper role in FM:
Tries to play way out of trouble.
Uses long throw to star counter attacks.
It must be remembered that the first one is can only be learned by mentoring program.
FM 22 Best Sweeper Keepers
Here is my top 5 sweeper keeper lists for veterans and wonderkids.
FM22 Sweeper Keeper Recommendations
These are the top 5 sweeper keepers available in Football Manager 2022. But beware, they are highly expensive players, I hope you can afford them…
Ederson
Alisson
Marc-Adre ter Stegen
Eduard Mendy
Jan Oblak
FM22 Wonderkid Sweeper Keepers
Top wonderkids with tremendous potential to became the worlds best sweeper keepers in the future.
James Trafford
Maarten Vandervoordt
Ivan Martinez
Gavin Bazunu
Andre Gomes