Going to start a new career? Check out my FM 22 best clubs to manage list. The most fun and challenging clubs in FM22 are ranked below from number 10 to 1. So, stop wasting your time and scroll down.
Here are some of my FM 22 pack recommendations:
There are total 9 club recommendations on this page. The 10th one is something different, it is a bonus.. You will understand when you read it.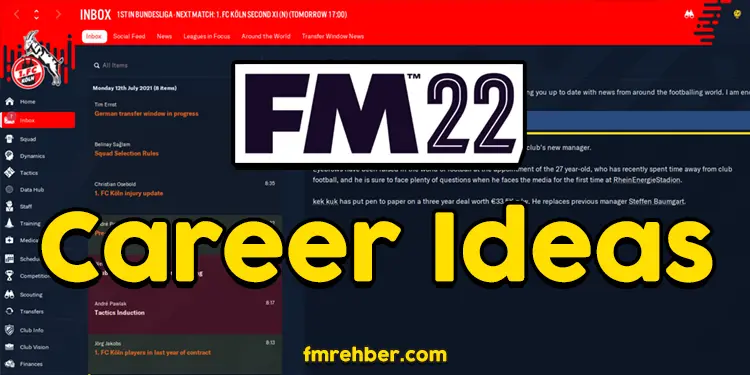 Okay, ready to check out my FM 22 best club list? If so, scroll down and start reading. I am not kidding, they are really fun to play clubs.
FM22 best clubs:
10.
Dortmund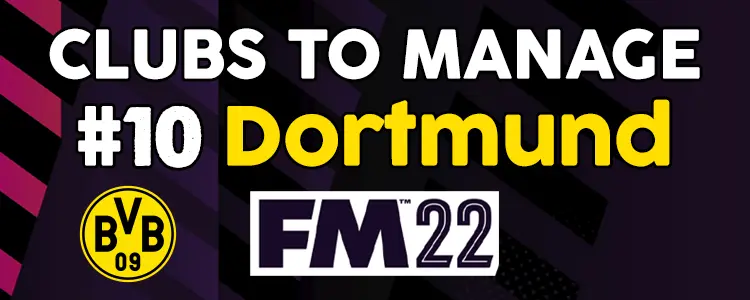 Good finance, amazing youth academy, and a challenging struggle. You know, Bundesliga is dominated by Bayern Munich. Can you end their hegemony and became a champion? You have all the resources you need. It might take a year or two but I am sure you can manage it.
Dortmund and other German teams are really fun to play because German division does not have any foreign player restrictions. Thanks to that you can transfer any player you like from all around the world. EU citizen or not! Another key point is you don't need to get work permit for your transfers in Germany.
9.
Newcastle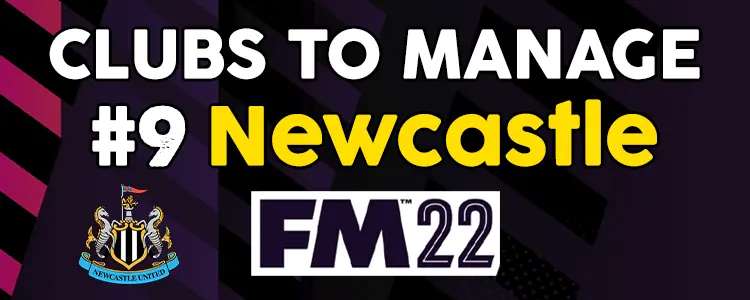 Recently previous owner Mike Ashley sold Newcastle to the Saudi Arabian consortium. Since then, unlimited Arabian oil is funding the Newcastle finance.
Are you ready to take control of new Newcastle management? Believe me it is going to be fun experience because you will have near to unlimited capital resources.
In FM 2022, biggest transfer budget is belong to the Newcastle. Can you take this opportunity and make Newcastle the biggest club in Premier League?
8.
AC Milan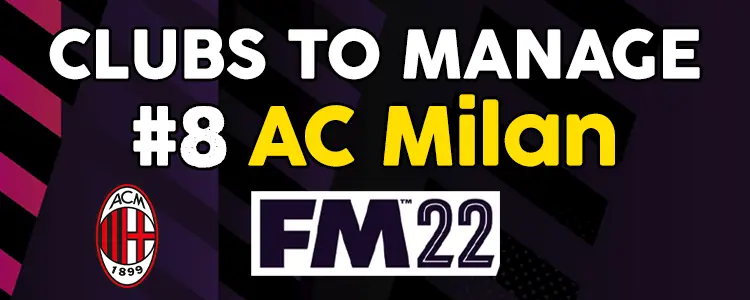 AC Milan is predicted to finish Serie A in 3rd place. Actually AC Milan is one of the biggest club in Italy and can do much better than that. Even though the club lost most of its old legendary players, Milan still have some stars. First name comes to mind is of course Zlatan Ibrahimovic.
There are some wonderkids too such as, Pierre Kalulu, Yaine Adli, and Chaka Traore. Still, winning the Serie A is going to be a challenge. Because Juventus have the best Serie A squad, and they are dominating the league. Just like Bayern Munich dominating Bundeliga. Beating them is going to be hard but also highly satisfying.
7.
Norwich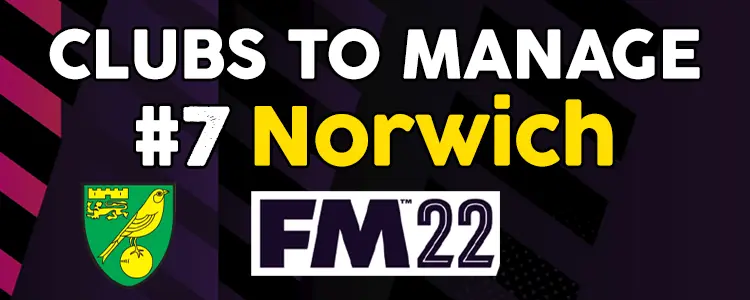 As you already know, English Premier League is the best division in the world. It is the hardest, most challenging, and most money making league.
The weakest link in this league is Norwich this season. Norwich is predicted to finish 20th. Well there are only 20 teams in Premiere league. So, we are underdogs.
Norwich have amazing training facilities but transfer and salary budgets are limited. You can strengthen your squad only by loan transfers.
You star and the wonderkid is Josh Sargent. If you manage to stay in Premier League, he can be sold for a good money.
6.
Journeyman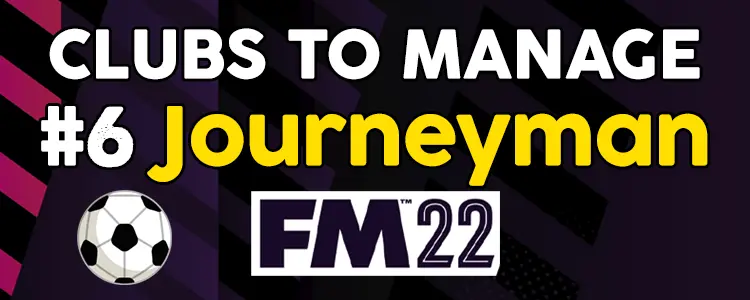 Looking for FM 22 best clubs to manage? You can't decide? Well, how about doing a journeyman career? It is quite fun.
Journeyman is basically a career of wanderers. In journeyman, you start as jobless manager and start applying clubs. That is the first rule of journeyman.
The second rule is, not spending more than two seasons in one club. So, no long term plans… You are a manager that focuses only on short term success.
5.
Barcelona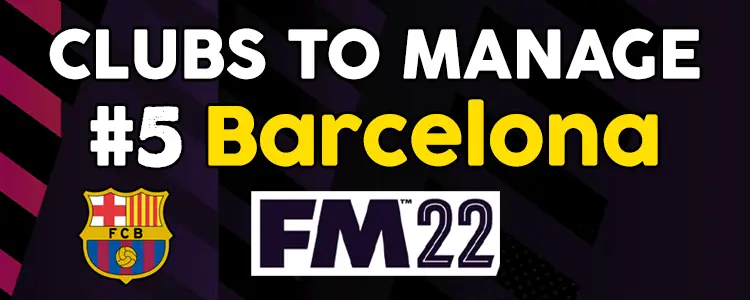 Barcelona will never be the same after Lionel Messi. Whereas they were the biggest club of both Spain and the world. Actually, they are still the best but can't win any trophies. (-_-)
Maybe Barca will return to its old glory with your leadership, who knows?
This career is going to be fun. Besides, experiencing the derby of the world El Classico worth all the trouble.
4.
PSG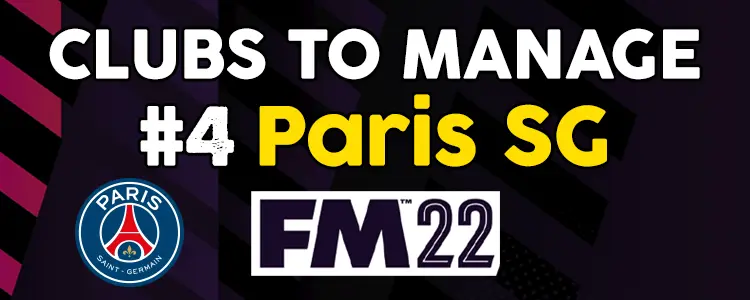 Paris SG is one of the richest club in the world. Additionally best players are in PSG, such as Messi, Mbappe, Neymar, etc.
Winning the Ligue 1 is easy. Therefore your main focus should be winning the Champions League. You have all the resources you need for it. So, no excuses.
3.
Manchester United
Of course the best FM22 career ideas article shall have Red Devils in it. Besides, this year Manchester United is stronger than ever with Cristiano Ronaldo.
Manu is expected to finish Premiere League in the 4th place. However, I am sure you can easily win the division first season. Because you have the best player, safe finance, and top quality facilities. Only thing missing is success and I am sure you can fix that in no time.
2.
Schalke 04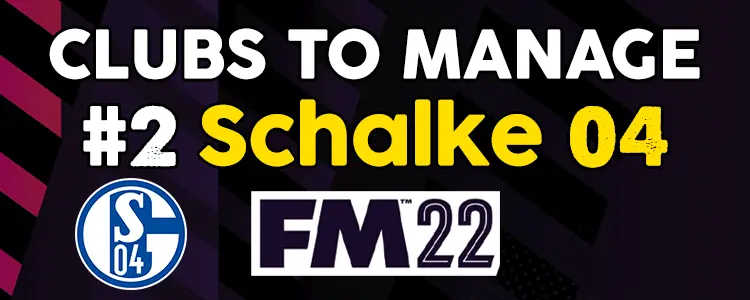 Schalke 04 is one of the biggest clubs in Germany. However, last year they are relegated from Bundesliga. Can you stop this regression and downfall and return Schalke 04 to its former glory? I am sure you can.
This year Schalke does not have any star players or transfer budget. Yet, their youth academy is stronger than ever. With multiple wonderkids in your squad, you can make a name for yourself in couple of years.
1.
Lille
LOSC is predicted to finish Ligue 1 5th. This doesn't look good in a league with strong clubs such as, PSG, Monaco, Marseille, and Lyon. Well, that is what makes this career challenging and fun.
Your first goal should be finishing the league in the 2th place. Because no matter what you do, you can't beat PSG in the first season. Messi, Mbappe, and Neymar won't allow you… However, after couple of seasons, you might pull it off, who knows…
---
Okay, let's wrap this up. Thank you for reading this article, you made me really happy. But now I ask you one more thing. It is your turn now.
Leave a nice comment below for me, and visit our discord channel. I am looking for it, see you later.