Newest real name fix can be found at FM 22 license fix page. Hello and welcome to our FM 2021 license fix page. In other words, the FM 21 real name fix. So, what does this pack do? In order to use real club and tournament names, SIGAMES must make a deal with the each and every respective parties. I mean UEFA, FIFA, clubs like Juventus, Real Madrid, Manchester United, etc. But unfortunately it is impossible to make a deal with everyone! Like Juventus, UEFA, some national teams, Brazil/Portugal leagues and clubs. For FM21 real names, we need extra unofficial patches.
What happens when clubs refuse the gave their licenses? In case of that happens, SIGAMES can not use these brands in their games! Instead they use fake names like ZEBRE, FCP, SLB, FLA, FLU, and such. Obviously these made up names ruins the game play experience. I am sure that we all agree on that. However, there patches that fixes that Football Manager fake name issue. Like FM 2021 license and real name fix. In order to get and install these patches, you can use our FM 21 license fix guide:
FM21 Real Name Fix Juventus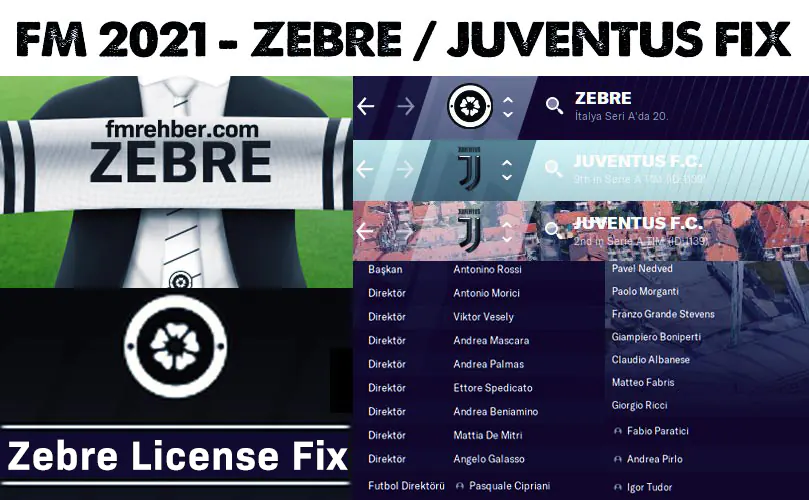 FM21 real name fix solves all your problems, Juventus included. This section is focused on FM 2021 Juventus name fix. As known as the notorious FM 21 Zebre fix.
Juventus is one of the biggest football team in Europe. It is really fun to play with or against Juventus in Football Manager series. However, that Zebre fake name thing ruins all the immersion. SIGAMES uses that made-up name because Juventus refuses to sell their name rights. Even for a video game.
I'm in no position to critique such a huge brand. It's their decision to keep their name rights, logos, staff names, etc. But no one can stop me from using FM Zebre Juventus fix for a better gameplay experience. Especially for a better Serie A and Champions League, this patch is a must.
FM21 Portugal License Fix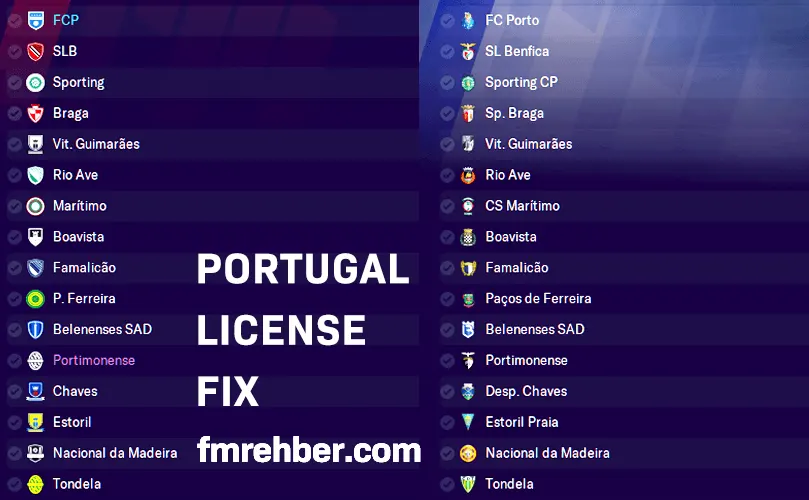 I mean look at the picture above, what are these names? Hell, even worse, the logos…
Worry not, with FM21 name fix, you can easily solve this issue. This patch fixes Portuguese league name, club names, and logos.
Portugal is really important for a Football Manager game. They produce tons of wonderkids and add value to the global championship tournaments.
FM 2021 Brazil Name Fix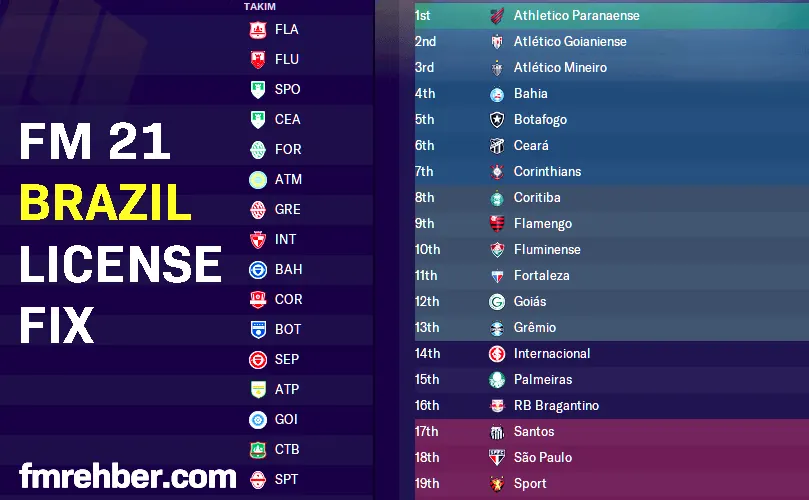 Brazil fix is also inside in this package. As can be seen, the most important wonderkid league in FM has fake names and fake logos due to licensing issues. It is unacceptable for players like me. As a result, some players decided to fix this nonsense by creating a license fix.
This patch basically changes FLA to Flamengo, FLU to Fluminense, GRE to Gremio, INT to Internacional, and such.
FM 21 National Teams and UEFA License Fix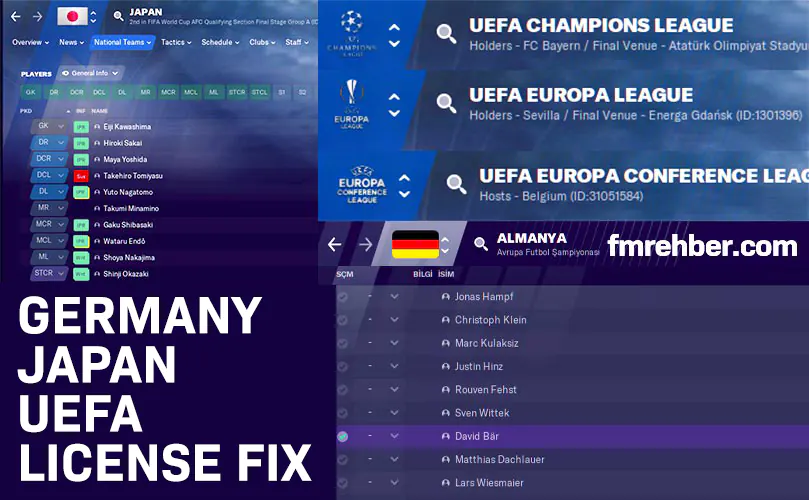 This one is generally called FM 2021 Germany fix. However, Japan national team also suffers from this licensing problem. Having fake players on the national teams is a game breaking thing for me. Literally unplayable. Not to mention, some of the national tournaments have fake names too.
This was the main reason for me to install FM21 license fix. Make sure to get this. Especially if you like to manage a German team or any one of the national teams.
Download FM21 License Fix
There is not one FM 21 license fix but two. One of them is called the real name license fix created by pr0. This one can be found here on fmscout. As can be seen on the official page, this fix is only 96KB and have been downloaded 767182 times! Furthermore this number is still growing.
The second one is called the FM2021 licensing and real name fix, created by mons. In case you are wondering, this one can be found there. You can download it from sortitoutsi. Likewise, FM21 name fix is also downloaded hundreds of thousands times!
Once you download the fix files, check out my complete installation guide below.
FM 2021 License Fix Installation Guide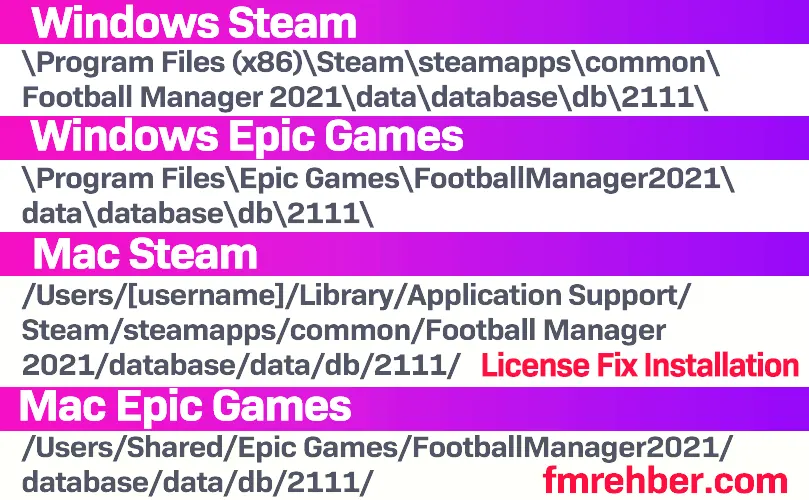 Let's get something straight. It is not easy to install any of these Football Manager 2021 license fix files. However, the rewards are overwhelmingly worth it.
I am sure you have noticed that I have shared two different license fix files. They are both same but have different installation settings. So, make sure to follow the correct installation guide below.
First one is more complicated to install but does not require you to register their website unlike the second one. But both of them works just fine in the end.
Fmscout License Fix Installation Guide
First you must find the 2111 folder inside your Football Manager folder. Check out the picture above and follow the correct path according to your operation system and platform. Now there is a folder called Inc inside the 2111 folder. You must delete the fake.lnc, lic_dan_swe_fra.lnc, and nleague.lnc files there. Finally replace them with the FM21 Fix by fmscout.lnc, and FM21 Club Names by fmscout.lnc found inside the license fix files.
From there you must go up two folders and find the folder called edt. Then open the permanent folder and delete fake.edt file. Go up two folders again and find the folder called dbc. Inside dbc there is a folder called permanent. Open it and delete six files. Such as zebra award.dbc, zebra turin fake staff.dbc, brazil_kits.dbc, forbidden names.dbc, licensing2.dbc ve licensing2_chn.dbc. It's all done! Enjoy your game with the real names.
Sortitoutsi License Fix Installation Guide
Find the folder called 2100 and delete the dbc, edt, and Inc folders inside. Do the same thing with the 2101 and 2111 folders too. Finally copy and paste the fix patch files to 2111 folder.
Once you have completed the steps above, copy and paste 9 editor data fix files to:
"Documents \ Sports Interactive \ Football Manager 2021 \ editor data"
That is all! Now you can enjoy your brand new game with the real names, logos, tournaments, etc.
---
Thank you for reading Football Manager 2021 license fix article. Now you can enjoy your game with the original names and logos. Before you leave, here is my latest article FM 2021 corner tactics.
Well, that is all I can say about the FM21 real names fix topic. Now it is your turn! Make sure to write your thoughts below. Your comments are highly appreciated. Thank you for reading and I am hoping to see you again soon. Take care dear managers!