Welcome, fellow nostalgia and CM 01 02 fans. Today I want to share best CM 01 02 tactic, IodineCF. There is one thing you should know though. IodineCF is much more than a good tactic. It is god-like and considered cheating by many! Because this tactic wins almost every match. You can check out CM0102 cheats for details.
CM 03 04 had diablo, CM 01 02 have IodineCF. Every CM fan agrees that these tactics are the best.
Do you want to win the Champions League cup? Use this tactic and transfer CM 01 02 best players from my shortlist. Your team will be undefeatable.
CM 0102 Tactic Iodine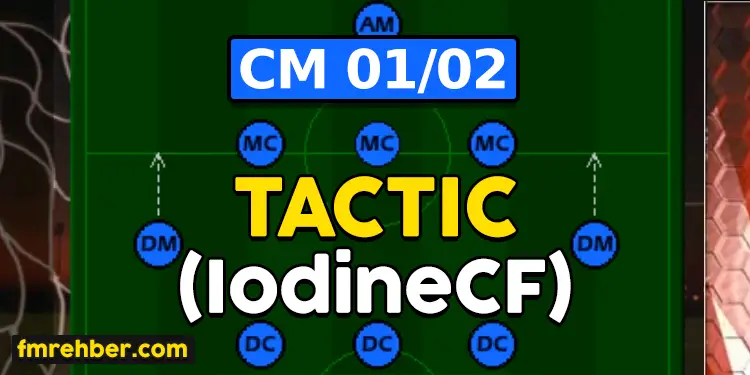 CM0102 IodineCF tactic uses 4-1-2-1-2. So, no wingers. I guess CM 01 02 match engine does not value wingers because IodineCF is the best tactic.
Iodine tactic does not care about your division or team. Small, big, mid, doesn't matter. This tactic works on all teams and gets you wins! I mean it is almost impossible to lose with Iodine. Because this tactic is perfect throughout the years and considered the best by most.
Here is the google docs download link of CM 01 02 best tac. It is only 1.4KB. You can easily import it after running CM0102. Transfer Tsigalko and this tactic will turn him into a beast.
How to install CM 01 02 IodineCF tactic? It pretty easy to install. Here is my CM0102 tactic installation guide:
First you need to download the CM 01 02 tactic.
Tactic file must be moved to tactics folders. Which is here:
C: \ Program Files x86 \ Championship Manager \ tactics (If your game installed in a different directory, just find it and paste the .tct file.)
Finally, run the game and go to your tactic screen. Click on load tactic to choose Iodine.
Ta da! You have installed the best CM0102 tactic. Hurry, start your next match. The tactical difference will show itself quickly with lots of scores.
---
Thank you for tuning in. I did my best. Now it is your turn. Leave a nice comment below and join my discord channel. Your support will be highly appreciated. Bye bye then.