Best FM22 half backs are at the bottom of this article. Also you will find the most important traits for a half back player. Other than that, there is a basic explanation to be found on the FM half back role. I hope this helps you to form your tactic and choose your players in a much better way. Let's get started.
Other defensive midfielder roles in FM:
FM half back role definition:
The half back looks to serve a role somewhere between that of an aggressive sweeper and a defensive midfielder. The half back drops deeper than a standard defensive midfielder in possession and looks to offer an outlet for quickly recycling possession and to offer protection against the counter attack.
The half back is only available with a defend duty.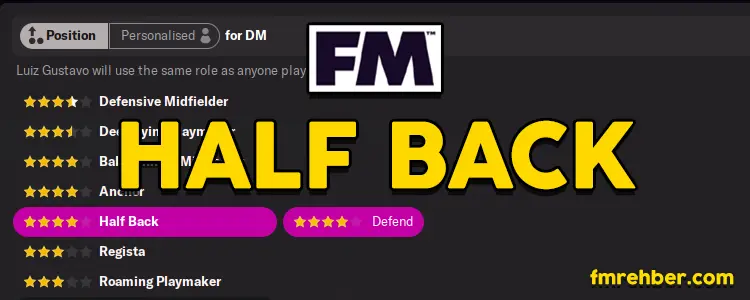 Since half back is a role between defender and defensive midfielder, tackling and mental attributes are highly important. Such as anticipation, composure, concentration, decisions, positioning, and teamwork. Of course some stamina, strength and jumping reach would be nice, in order to successfully execute one on ones.
Best player traits for FM22 half back role:
Marks opponent tightly.
Comes deep to get ball.
Stays back at all times.
Dives into tackles.
FM 2022 Half Backs
Best half back transfers to do in FM22 are listed. Both world class and wonderkid half back players to get.
FM22 Best Half Backs
Casemiro: Real Madrid's and Brazil National Team's key player.
Fabinho: Can play both centre back and defensive midfielder.
Jordan Henderson: Can play both centre midfielder and defensive midfielder positions.
Sandro Tonali: Wonderkid from older FM series, now the star player of AC Milan.
Joao Palhinha: Portuguese 25 years old talent from Sporting CP.
FM 22 Half Back Wonderkids
Eduardo Camavinga: S tier wonderkid of Real Madrid.
Tanguy Nianzou: Versatile player of Bayern Munich who can play in defender centre, defensive midfielder, and centre midfielder positions.
Nico: My favorite wonderkid in FM 22, because he is cheap and doesn't mind singing for underdog clubs.
Marco Kana: 18 years old ambitious defensive midfielder of Anderlecht.
Han-Noah Massengo: French wonderkid of Bristol City.