One of the most interesting defensive midfielder role in FM is deep lying playmaker. You expect playmakers to be offensive players, but that is not the case with DLP role. It comes in handy if you don't have any ball playing defenders. Because you need to move the ball from defense to players in forward areas.
Check out the other defensive midfielder roles in FM series:
Deep lying playmaker review FM:
The deep lying playmaker operates in the space between the defence and the midfield and aims to initiate attacking moves via pinpoint passes to players positioned higher up the pitch.
Although primarily a creative player, the deep lying playmaker also has to be competent in the art of defence.
In a defend duty, the deep lying playmaker will fulfil extra defensive responsibilities by holding position in front of the defence and will rarely look to support attacks.
In a support duty, the deep-lying playmaker will bring the ball out of defence and operate with a more expansive passing range.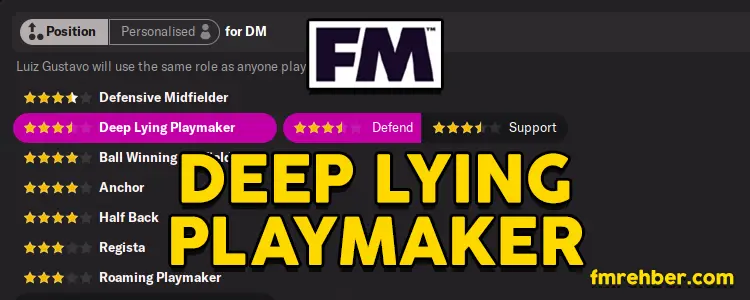 This is a defensive player who is specialized in play-making. You can use this role if your defenders and midfielders are not really good with passing.
Since this is a play-maker role, most important attributes are passing, vision, teamwork, and decisions. Also I would prefer a player who can use both of his foot with on this role.
FM deep lying playmaker traits:
Dictates tempo.
Stays back at all times.
Comes deep to get ball.
Tries long range passes.
FM Deep Lying Playmaker Players
Top tier players in the deep lying playmaker role are listed below. As well as the deep lying playmaker wonderkids. All in Football Manager 2022.
FM22 Best Deep Lying Playmakers
N'Golo Kante: 20 Stamina, 20 teamwork, 20 work rate, and 20 anticipation? He is one of the best players in the world.
Jordan Henderson: Star deep lying playmaker of Liverpool.
Mateo Kovacic: Croatian playmaker who can play in both midfield center and defensive midfielder positions.
Jorginho: Natural born deep lying playmaker, also the second player from Chelsea on this list.
Federico Valverde: 22 years old young star from R. Madrid. Also the national player of Uruguay.
FM22 Deep Lying Playmaker Wonderkids
Samuele Ricci: 19 years old wonderkid from Napoli, currently on loan, playing for Torino.
Leighton Clarkson: Young version of Jordan Henderson.
Gianluca Busio: American youngster with Italian ancestry.
Tyler Morton: Third Liverpool player I have mentioned today.
Harvey Griffiths: 17 years old promising star from Wolves U23.