Welcome to the FM 23 3D kits page. You can download the club kits of 2022 – 2023 season below. I have recently shared a FM23 kits pack. But that was a 2D kits pack made for in-game UI. Today, I want to share the kits for 3D match engine so that you can have some real fun watching your team play.
Popular FM graphic packs:
FM23 FACEPACK – FM23 LOGO PACK
This patch doesn't make much sense if you're playing your matches on a 2d engine like we did in the old CM and FM series. Because this patch doesn't support the two-dimensional match kits. However, if you are watching your team's matches on the 3D match engine, you should definitely get this patch.
Due to copyright issues, FM producers could not add real team jerseys to the game. Fortunately, this patch includes 100% real club kits to FM 2023 in 3D.
FM23 3D Kits Megapack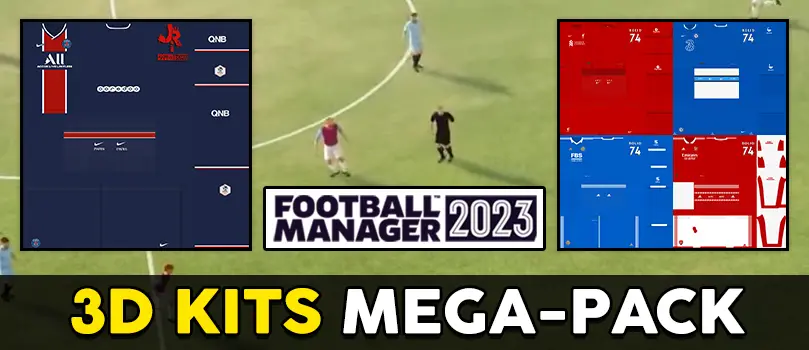 It's really boring to watch your players play football wearing fake club kits. Fortunately, there are three-dimensional kits packs that adds %100 real jerseys to the game. In conclusion, installing 3D kits is essential to enjoy the game.
Without further ado, let me introduce the patch files.
FM 23 3d kits pack download links:
Download – Full pack.
There are three different download links above. Each link contains different 3D kits pack created by different team. However, the first Sortitoutsi download link have the most comprehensive one. So, if you can't find the jersey pack of the league you play in the alternatives, you can go back to the first download link.
Currently FM 2023 3d kits covers only leagues from 20 countries. Including the national team jerseys which is really important to me because of the 2022 – 2023 world cup. Huge kudos to the pack creators! Thanks to them we can enjoy Football Manager to the full extend.
The best thing is you can download 3d kits for England levels 1-6. Up for a long challenge? It's quite a fun.
How to Install FM 23 3D Kits?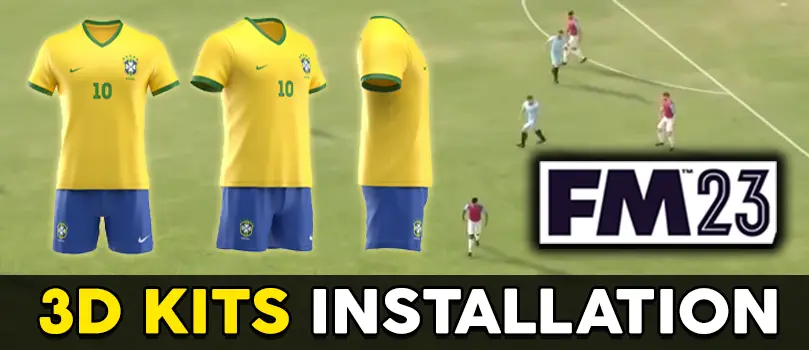 Did you download a pack from the links I shared above? Cool. Then we can move on to the installation instructions without wasting any time.
FM 23 3D kits installation guide in five steps:
Download a 3D form pack.
Unpack archive file by using Winrar or 7zip.
Copy and paste the patch files you extracted from the archive into the graphics folder in my documents.
FM23 graphics folder location:
Documents / Sports Interactive / Football Manager 2023 / graphics
If there is no graphics folder in the path I mentioned above, create a new folder in the Football Manager 2023 folder and name it "graphics". Then throw the patches in it.
Lastly, run FM 2023 and go to preferences > advanced > interface to clear cache. (Reload skin too while you are at it.)
If you follow the above steps in order, you can perform the patch installation without any problems. I wish you success in your football career in advance. You can type your questions and thoughts in the comment section below. Your feedback is really important to me.
If you want to support, you can add this site to your browser's bookmarks and join our discord channel. Hope to see you again, goodbye.