MacAssistant RT 22 is a real time Football Manager 22 editor, specifically created for mac computers. Like all FM editors, FM 22 MacAssistant RT also includes some scouting features. Of course you can't compare it to Genie Scout. However, it is still useful. Since there aren't many FM tools with Mac support, MacAssistant RT is a shiny gem.
If you are using Windows operating system, try FM 22 in game editor, Genie Scout 22 or FMSE 22 tools for FM. They would be a great alternative for MacAssistant. However, if you are Mac user let us continue with this beautiful app.
Oh before you start downloading it, I would like to share you this small info. MacAssistant RT have Apple Notarization. Which means it is approved by Apple. Therefore making it safe to use.
There are tons of FM tools that allows you to scout and edit. But unfortunately almost %99 of them does not support Mac operating systems. Thankfully we have MacAssistant RT 22 for that job. Now go on, download, and enjoy!
MacAssistant RT 22 Download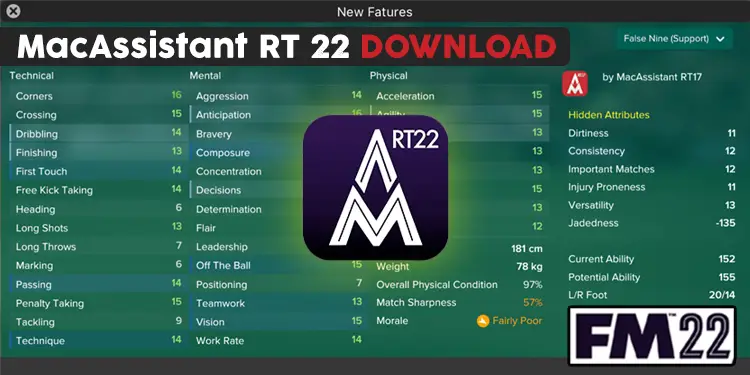 MacAssistant RT 22 file size is only 15.9MB. Also partially free. So, you can download and use it in mere seconds.
It is downloaded 2565 times as I wrote this line. But that number is rapidly increasing. That number is pretty big because there aren't many FM players that uses Mac computers. Here is the download link for the Mac gamer minority.
I have shared the official download page with you. So that you can download it without worrying about any malicious content. It's official page is completely safe and free to download.
By the way please don't go out and look for MacAssistant RT 22 crack stuff. I don't want you to download viruses to your computer. They may corrupt your system and steal your private information. If you enjoy the program, do buy MacAssistant RT 22 license key.
MacAssistant RT Features
Beautiful user interface created for Apple screens.
Apple notarization.
Super fast engine that takes little to no time to load.
Fast search and customizable columns and menus.
Ridiculous player edit options. Such as age, height, ability, potential, contract, reputation, club, rating, etc.
Same editing options for staff.
Club editing for finances, fans, stadiums, facilities, sponsors, and even kits.
Shortlist creation, saving, importing, and exporting.
FM Scout and Editor for Mac Computers
Genie scout for mac is called MacAssistant RT 22. You can use MacAssistant RT as FM Scout and Editor on your mac operating system. Since it is created for macOS, the compatibility rating is %100.
macOS 10.13, 10.14 and 10.15 supported. However, there is only one downside. This app only supports steam version of the game. If you bought the game from any other source, it might not work. Because MacAssistant RT 22 is optimized for steam.
---
Thanks for tuning in for another Football Manager tool. I hope this article was helpful. Now it is your turn.
Make sure to leave a nice comment for me and join my discord channel. Well looks like that's it, gotta go. Take care!