Is your FM 22 running slow? Having performance problems? I know couple of solution methods to fix that. Welcome to my FM 22 speed increase guide. Let's discuss what we can do to increase FM22 speed dramatically.
Skip matches, match dates with a single button:
Increasing FM22 can be a bit difficult. We cannot reduce graphic settings in FM except resolution. Because it is a text based game. There aren't many graphical content.
You can always try to reduce resolution. Playing in a small window might elevate your performance. However, resolution have little impact on performance. Because FM is a game that is mostly relying on CPU.
CPU power is used in the progress screen. Because it calculates various changes all over the world.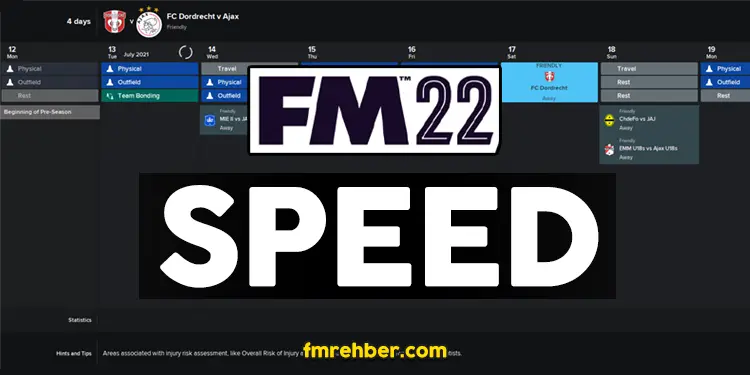 There are 5 working methods to increase FM 22 running speed. I have already told you about the reducing graphical setting resolution. Now it is time to reveal the real deals:
Methods to increase the Speed of FM22:
1.
Decrease CPU Usage With Smaller Database
Big database is the number one reason for slow FM speed. Therefore you use a smaller database to speed up your game.
Only open the league you will be playing and maybe couple of big European leagues. That will be enough. Also you will be more able to sell your players to the big clubs of Europe. Of course if slowness continues, only pick the league your are playing in.
One league small database offers super fast FM22 speed. But there are also downsides to small database. Such as less players, less transfer opportunities, and less world information. Well, some sacrifices must be made to speed up FM 22.
Bigger database means heavier weight on your CPU. Because CPU is used to calculate tons of leagues, matches, and players in FM. So, reduce database and feel the FM 22 speed increase.
2.
Play With Less Mod Packs
If your gaming rig is old, some graphical FM22 packs might slow down your game.
Especially packs with high resolution pictures slows down tremendously.
FM22 packs that might slow down your game speed:
I suggest you to do separate tests in order to figure out which pack is causing performance problems. Testing is important because we don't want to disable mods that aren't effecting the game speed.
FM22 pack locations:
Documents \ Sports Interactive \ Football Manager 2022 \ graphics
Find this folder and re-name it as graphics1. That will temporarily disable all graphics addons. Then run the game and control the speed. If nothing changes, switch back the folders name to graphics. That will re-install the mods.
Of course if you have more than one mod, better test them one by one. I have listed the FM22 graphical mods that might cause performance issues. But every system is different and you should test them by yourself.
3.
Remove Nonessential Files With Lite Graphics
Lite Graphics is a pack that is created to boost FM22 performance of really old PCs. It removes unnecessary files from the base-game.
It's not going to do any miracles though. Still, it improves the game-speed significantly.
Deleted files are all graphical in this mod. So, nothing will be missed from the game functionality. Except graphic pictures.
Some of the files that removed with FM Lite Graphics:
Backgrounds
Banners
Purchases
Regen Faces
Languages
Main Menu
Advertisements
Photos
İcons
Animations
Everything I have mentioned above and more gets deleted from the game. This process will reduce the weight on your computer.
This method is recommended for ultra old computers only.
Installation folder:
Steam \ steamapps \ common \ Football Manager 2022 \ data \ game
This folder might be someplace else if you didn't bought the game via Steam platform.
Also don't forget to backup graphics.fmf file in the game folder in case you want to go back.
4.
Move Game Folder to SSD
SSD is the 5x, 10x, even 15x faster version of regular storage disks. It is the best time to buy a SSD if you haven't got one yet. You will feel the tremendous difference.
Usually windows is installed in SSD drive whereas games are installed in HDD. Because games took lots of space. If that is the case in your PC, simply install FM22 to your SSD disk. It will speed up your game a lot.
If you don't have any SSD, just buy one… They are really cheap in 2022 and can be used as a second disk to your HDD.
Laptops can also be upgraded with SSD. But CD-Rom must be removed. PC store can help you with that.
5.
Get a Better PC
I hate when someone suggests buying a new PC for a performance problem. But it might be the only way for some cases.
Of course first you should try the cost-free methods I have listed above. Let's hope they work.
If they don't, try to get a new PC. Don't have enough money? Try these:
Wait for a discount. Like Black Friday.
Buy a second hand used computer.
Pay in 12 – 24 months.
I hope these methods will help you to speed up your FM22. Good luck and have fun!
I will see you soon, till later.