Today on FM player roles, we will review the mezzala. This role is highly demanding and really difficult for average players. But it is equally effective tactically. So, let's discuss this more.
FM midfielder roles:
FM mezzala role explained:
This is the modern interpretation of the mezzala, a central player that likes to drift wide and operate in the half-spaces. The mezzala is essentially a central/half-winger, who likes to do his defending slightly further up the field, although he does generally have less defensive responsibilities.
With a support duty, the mezzala will seek to balance his responsibilities between more traditional midfield work and the inclination to contribute in the attacking third.
With an attack duty, the mezzala will often leave his midfield responsibilities to his team-mates whilst mainly looking to make attacking contributions in the final third.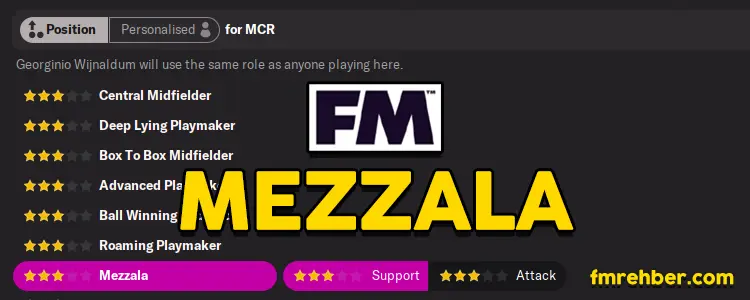 A good mezzala should be fast, good off the ball, can dribble, can shoot, can pass and good work rate.
It is a very dangerous role. Player roam further up the pitch. Leaving the midfield empty. So, either use this role with a world class team, or don't use it all. Because it will be costly.
FM Mezzala player traits:
Plays One-Twos.
Moves into channels.
Tries killer balls often. (Attack duty.)
Likes to switch ball to wide areas.
Best Mezzala Players FM22
There are only few players who can handle this difficult role. So, I made a compilation. Here is the best FM22 mezzalas, including wonderkid mezzala players.
Kevin De Bruyne: Worlds best mezzala or perhaps the best central midfielder.
Martin Odegaard: 22 years old superstar of Arsenal. His technique and mental attributes are top notch. However, can't say the same about his physique.
Nicolo Barella: World class midfielder of Inter with professional personality. I am craving some Bolognese Ragu…
Frenkie de Jong: First Barcelona player of this list. He is only 24 years old but his personality is model citizen.
Matteo Pessina: Atalanta's 24 years old star national team player.
Pedri: 18 years old star player of Barcelona.
Gavi: 16 future superstar of Barcelona.
Giovanni Reyna: Another great wonderkid from Dortmund youth academy. American.
Ryan Gravenberch: Dutch wonderkid from Ajax.
Yunus Musah: Another American wonderkid. This time from Spanish club Valencia.