Welcome to the complete guide of FM midfielder role carrilero. It is similar to defensive midfielder but does the defending works further up the field. Pretty good role for high pressing and high tempo tactics.
In short, carrilero is a fairly balanced player who have both defending, and supporting duties. High stamina and work-rate is the key for carrileros. First name comes to mind is of course N'Golo Kante.
Center midfielder FM roles:
FM carrilero review:
The carrilero – or shuttler – is a supporting role more often than not utilised as part of a midfield three, or as two central midfielders in a diamond midfield. It is the job of these shuttlers to cover lateral areas of the pitch and link the defensive midfielder area with the attacking midfield area. This is what seperates the carrileros from box to box midfielder, as they are not expected to shuttle between boxes, but merely between lines of the midfield.
The carrilero is only available with the support duty.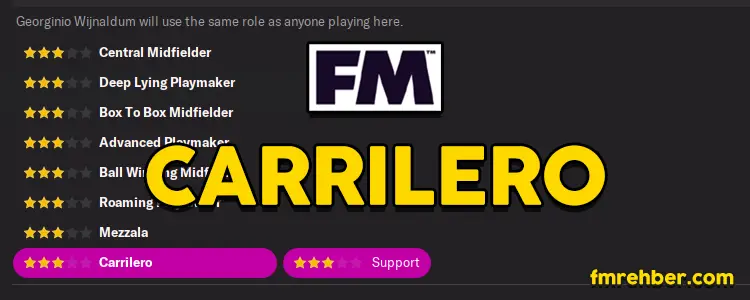 Stamina, positioning, tackling. work-rate, and passing are the most important attributes for a carrilero. Especially high stamina is essential because physique is everything in modern football.
If you are going to use a carrilero, better make sure to have a good play-maker nearby. Because carrilero is a supportive role and not creative enough.
Best player traits and preferred moves for FM carrilero role:
Dictates tempo.
Comes deep to get ball.
Arrives late in opponents' area.
FM22 Best Carrileros
There you go, best carrileros in FM22. I have included 6 superstar and 4 wonderkid carrilero players on this list. I hope you can sing and transfer at least one of them.
N'Golo Kante: He is simply brilliant in every midfielder / defensive midfielder roles.
Rodri: Professional midfielder of Manchester City. Great long shots.
Casemiro: R. Madrid's Brazilian beast.
Adrien Rabiot: Left footed world class midfielder Juventus. Unfortunately, low determination.
Thomas Partey: Ghanaian player of Arsenal. Can play at both midfielder / defensive midfielder positions.
Rodrigo Bentancur: One of the best players in FM for the past couple of years.
Eduardo Camavinga: He is the best midfielder wonderkid in FM22.
Nicolo Rovella: Juventus wonderkid loaned by Genoa for a year.
Aster Vranckx: Highly determined and physically strong wonderkid of Wolfsburg.
Pape Matar Sarr: Tottenham U23 wonderkid on loan at FC Metz.