Central midfielder is a midfielder (centre) position in FM. It is perhaps one of the most used midfielder role in both FM and real-life football. So, let's review it and find the best use for this role. I have shared the best traits and best players in FM central midfielder role on this page. Let's get started.
Other FM midfielder roles:
FM central midfielder definition:
The central midfielder is responsible for providing an industrious and versatile link between the defence and the attack. Expected to perform a variety of tasks across the centre of the pitch, the central midfielder benefits from having the tactical awareness and technical ability to support both defensive and attacking play as needed.
With a defend duty, the central midfielder will focus more on sitting deep, curtailing opposition counter attacks and controlling the tempo of the game from the centre of the pitch.
In a support duty, the central midfielder will look to judiciously balance his attacking and defensive responsibilities. He will get forward when necessary but he will mainly keep to the centre of the pitch and attempt to thread passes to players in the final third.
With an attack duty, the central midfielder will more readily surge into the final third to support the forwards in and around the box.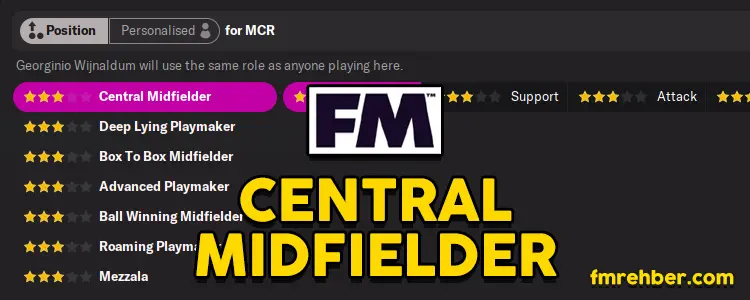 The most important attributes of central midfielder role are passing, stamina, first touch, decisions, vision, teamwork, and off the ball. Of course set of important attributes might slightly change based on the appointed duty.
It is also highly demanding role. Because they must be passing link between other players while attending all kinds of duties. Such as defending, attacking, playmaking and even scoring goals.
Central midfielder preferred traits:
Tries killer balls often. (Attack duty.)
Tries long range passes.
Plays One-Twos.
Dictates tempo.
FM22 Best Central Midfielders
Here is the list of the best central midfielders and central midfielder wonderkids in FM22.
Kevin de Bruyne: Worlds best midfielder.
Koke: Natural born central midfielder, one of the bests in this position.
Joshua Kimmich: Bayern's model professional midfielder.
N'Golo Kante: You already know him, Chelsea's living legend.
Nicolo Barella: Highly determined and professional world class midfielder. Why am I hungry? Guess I will eat some pasta.
Bernardo Silva: Perfectionist superstar of Manchester City. He has 20 workrate!
Rodri: Elite midfielder with great long shot skill.
İlkay Gündoğan: Another living legend from Manchester City.
Leon Goretzka: Perfectionist superstar of Bayern Munich.
Pedri: You already know him, Spanish wonderkid of Barcelona.
Giovanni Reyna: American wonderkid of Dortmund.
Ryan Gravenberch: 19 years old star and the wonderkid of Ajax.
Gavi: Barça's 16 years old star in the making.
Nico: Versatile and cheap wonderkid of Barcelona.
Jordan James: 17 years old cheap promising youngsters for clubs with lower budgets.