This pack includes the most productive FM 22 training schedules there is. I can give you two reasons to download this FM 22 training schedule pack. First, it helps tremendously with player development. Second, optimized training schedule keeps your players fit and ready for the upcoming matches.
Is your training program not working as you like? Worry not. Because on this page, you will find the best FM 2022 training schedule.
Easy to install, working greatly. FM 22 wonderkids will highly benefit from it. Other players will also enjoy the perks of quality training, however FM players can't outgrow their potential.
FM22 Training Schedules Download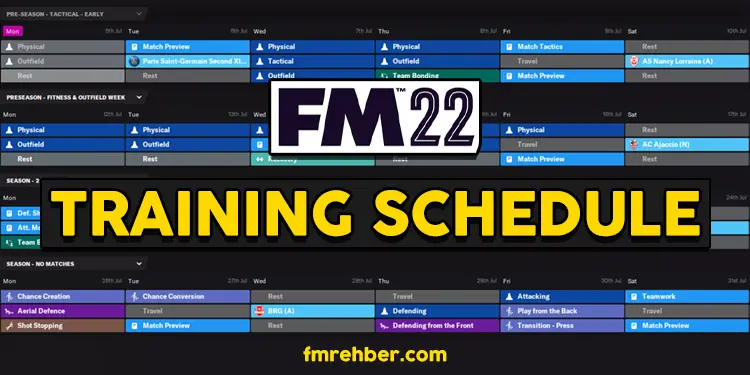 Training schedule pack is only 180KB. However, it contains 5 highly optimized FM22 training schedules.
DOWNLOAD < FM22 training download.
Pack features:
Preseason week with 1 match.
Preseason week, fitness outfield.
Season week with 1 match.
Season week with 2 matches.
Free season week without any matches.
Premade training schedules for you to use on different circumstances in Football Manager 2022.
FM 2022 training schedule installation:
Firstly, download the training schedule files from the link I provided above. Then move your downloaded files to the schedules folder here:
Documents \ Sports Interactive \ Football Manager 2022 \ schedules
Run the game. Go training > schedules section. Then import the schedules you downloaded.
Finally, choose correct training schedules for the upcoming weeks via calendar.
Installation is plain and simple. These training schedules are highly optimized and working perfectly. However, don't expect miracles. Players without potential nor character can not develop, under no circumstances. Other than that, you will see the positive results shortly after installation.
What is next? I recommend you to get the best coaches possible. My FM 22 best coaches list might help you on this regard. In order to benefit fully from these training schedules, you must have the best coaches. As well as top level training facilities.
---
Thanks for tuning in. I hope this guide article helps your team. Enjoy, and I will see you again soon. Take care.