Update: You can visit FM 22 best coaches page too. FM21 best coaches can be found here. Coaches are super important in each sport. Especially in the football. That is why it is important to have good coaches in Football Manager games. FM 2021 best coaches list will help you to strengthen your staff members. Therefore making your team stronger.
Coaching is the key element of player development in Football Manager series. Want to develop youngsters faster? You should have good coaches and good responsibility assignment. I have listed the best goalkeeping, defending, attacking, possession, and fitness coaches in FM 21 for you.
Here is the list of FM 2021 best 5 star coaches:
FM 2021 Best Goalkeeping Coaches - Shot Stopping
FM21 best coach. Here is the list of best shot stopping coaches. Also remember, if a goalkeeping coach is good at shot stopping, he can do the same thing with the handling. FM 21 GK Shot Stopping coaches:
FM 21 Best Goalkeeping Coaches - Handling & Distribution
Goalkeepers must be good at passing and distribution in the modern football. Her is the best FM 21 goalkeeping handling coaches:
FM21 Defending Coaches - Tactical
FM 21 defending coaches can work on both tactical and technical defending. Let's start with the best tactical defending coach list in FM 2021:
FM 2021 Defending Coaches - Technical
FM 2021 best defending coaches. These coaches are mostly focused on heading, marking, and tackling. FM 21 technical defending coaches:
FM 21 Best Attacking Coaches - Tactical
FM 21 attacking coach list. FM 2021 best tactical attacking coaches:
FM21 Best Attacking Coaches - Technical
Technical attacking coaches in FM 21:
FM 2021 Possession Coaches - Tactical
Positioning, vision and teamwork! Here is the list of FM 21 best posession coaches tactical:
FM 21 Possession Coaches - Technical
Best FM 21 technical possession coach list:
FM21 Fitness Coaches - Strength
Strength fitness choaces in FM 21:
FM 2021 Fitness Coaches - Quickness
FM 21 best fitness coaches quickness:
FM 2021 Coach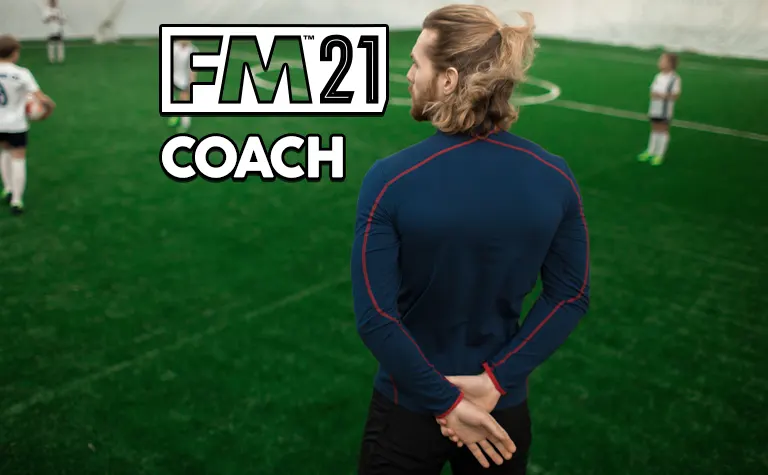 Staff member called coach, directly influences the player development in Football Manager games. Good coaching equals faster player development.
FM21 coaches also affects player condition, training rating, development and morale. So, if you have enough money, you should definitely build a strong staff board.
Unfortunately most teams don't have enough finances to hire adequate staff members. In this case I suggest you to postpone this goal to the later seasons. Also you can make a board request, asking for more coaches allowed & salary budget.
FM 21 5 Star Coaches
Every manager desires 5 star coaches. However, you can barely find 5 star coach in Football Manager 2021. Only handful of them available. Therefore we should be content with 4 and 4.5 star coaches. 
+4 star coaches are more than enough for top class teams. Even the biggest clubs doesn't have all 5 star staff members. Also remember, staff members might develop too since they have potential. That is why I always choose the younger coaches. 
---
Our best FM 2021 coaches, coach and 5 star coaches article ends here. Thank you guys for reading. Make sure to leave a nice comment for me okay? See you later.