What is the FM 22 in game editor? In game editor allows you to do all that in real time during gameplay. Its tools allows you to edit players, staff, clubs, competitions, nations, etc. But mostly FM22 in-game editor is used for finances and player potentials.
GENIE SCOUT 22 < Best FM22 scout tool.
Now this is a DLC. You need to buy it via steam just like you bought the FM 22. It is currently selling at $7.99. Of course it goes on sale from time to time. Since it is not an imperative tool, you can wait for discounts. However, if couple of bucks is not a big deal for you, just buy and use it without delay.
FM 22 in game editor not working? If your FM22 in game editor is not showing, then you probably need to activate it via steam. First buy it from steam. Then follow this path:
Steam Library / Games / Tools / FM 22 In-Game Editor
Then simply activate the DLC before launching Football Manager 2022. It is done, now you can enjoy your brand new real-time editor. Edit anything you want with a simple click.
FM22 Editor Guide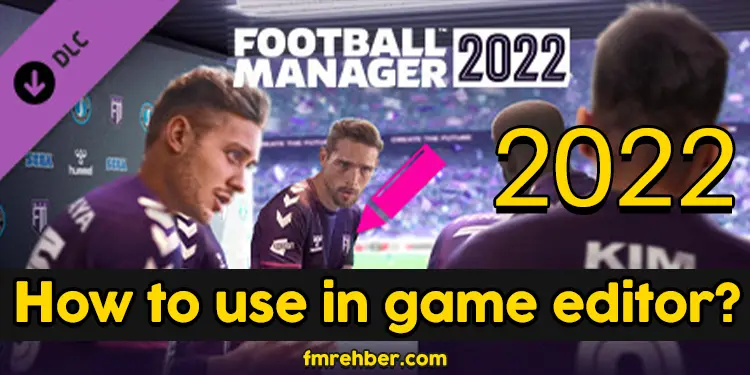 Where to get FM22 in game editor? If you are using the Steam version, here is the DLC download link. For Xbox pass version, visit this Microsoft store link. But beware, Xbox pass version does not have real-time editor. You can only use regular offline editor in the Xbox game pass FM. However, it might be listed on Microsoft store in the future. Better check it frequently. Of course I will update this article if anything comes up on this regard. So, in order to download FM 22 in game editor, you need to buy it.
FM SCOUT EDITOR 2022 < FM22 in game editor alternative.
Another alternative would be the FM 22 FMRTE. However, it is also a paid software.
Since we have downloaded the in-game editor DLC, let us get to the million dollar question. FM 22 how to use in game editor? Well, after buying and activating the DLC, just run the game and click on a player profile. Then you will see the little pen icon on the top right corner. That pen icon opens the editor. From there you can simply edit anything you want.
Here is the FM 22 in game editor features:
Player: Editing FM player attributes, abilities, personalities, potential, personality, etc.
Staff: Same as player editing but this time for staff members.
Club: Finance, fans, facilities, and couple other things can be edited.
Competition: Competition rules, etc.
Nation: Nation properties also editable via in-game editor.
Back then there were no in game editors. You had to > save > exit > run editor > edit save > run the game > load edited save, too much of a hassle. But thankfully now we have the real-time editor for FM.
Today I have answered the how to install FM 22 in game editor question. Now you can easily buy, download, install, and use it. I mean, I did what I can. Now it is your turn. Make sure to join our discord channel and leave a nice comment below. I will see you soon, bye for now.