Default FM22 commentary is only in text. Isn't that backwards? Both FIFA and PES are using top notch audio commentary. Come on Sports Interactive, don't ignore this… I expect to see this feature on the next game. At least we have the FM 22 audio commentary mod for now. Created by FM fan Metz2021, thank for your hard work.
FM 22 3D Kits     FM 22 License Fix
This audio addon works great with the Football Manager AI. You wont hear anything goofy or quirky. So, grab this immediately for a better FM match experience.
FM22 audio commentary patch uses the voice of sports commentator Peter Drury.
FM22 Commentary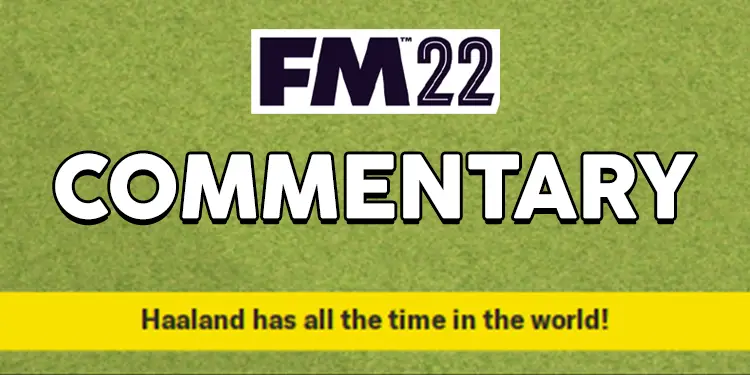 This pack is downloaded 9.000 times and 1GB in size. It is fully voiced. Some VAR voices are added too.
DOWNLOAD LINK < FM 22 audio commentary.
Voiced FM 22 commentary is only in English at the moment. However, voice packs for other languages might be made in the future.
FM 22 PITCH TEXTURES    FM 22 SKIN PACK
This patch works with all platform versions of the game. Including Xbox Game pass. You don't even need to start a new save for this to work. Audio commentary works perfectly fine with the existing save games.
FM 22 Audio Pack Installation
This pack is not meant for the FM folder inside the documents. You need to go where the exe is. Follow the exe and find the installation location. Then go into the data folder for back-up.
Steam users, follow this path:
\ Program Files (x86) \ Steam \ steamapps \ common \ Football Manager 2022 \ data
Back up the simatch.fmf and simatchviewer-pc.fmf files before installation. So that you can go back to the default FM any time you want. Because you might get tired of the audio commentary.
Then simply copy-paste FM22 audio files you downloaded, to the data folder.
---
Finally you can enjoy the Football Manager 2022 with an audio commentary. Your matches will be much more fun from now on.
Now it is your turn. Leave a comment below, add this website to your bookmarks, and join our discord channel. Your support is highly appreciated.