CM 03 04 diablo is the most successful tactic in the entire football manager game history. Actually it is not a tactic. Diablo is basically a cheat. Because with diablo tac, even the smallest club can become a champion. Most important thing about the diablo is the ridiculous amount of scores.
Can a team score +7 goals each and every match? In real life it is impossible. But in CM 03 04 you can pull it off by using diablo tactic. Especially if you have legendary players such as Toledo, Todorov, and Roncatto.
Moreover, you can use this tactic for long years. Normally CM 03 04 AI figures your tactic and takes counter measures. However, this does not happen with diablo tactic. Simply because it is too good to be countered. Well, what can I say? Diablo is a CM 03 04 cheat tactic. So, if you are into cheating, visit my CM 03 04 cheats article. If you don't like cheating at all, you should skip this diablo tactic. Because it is one of the biggest cheats in the game.
4-1-3-2 diablo tactic can be downloaded from the link below. For other ones, visit my CM 03 04 best tactics article.
Download CM 03 04 Diablo Tactic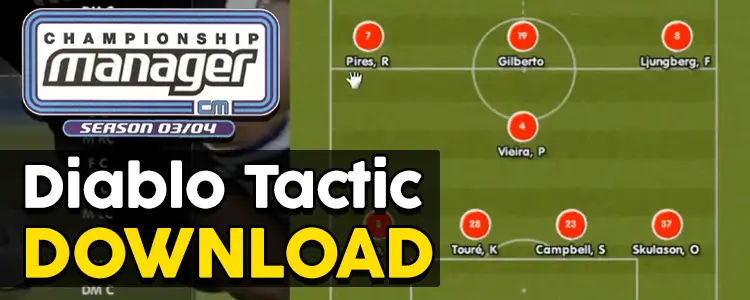 I have seen CM 03 04 diablo tactic on various websites. However, instead of providing a download link, they explained how to form diablo tactic. Well why bother when you can simply download and import it?
CM 03 04 SCOUT    CM 03 04 EDITOR
Are you ready for success? Here is the CM 03 04 cheat tactic diablo download link. This tactic works on every division and club. Squad quality is also a parameter but still, even with bad squad you can achieve greatness. Your team have never been this close to winning cups in CM 03 04!
Anyway, I wish you success, have fun on your career. Don't forget to leave a nice comment below. I really appreciate your feedback. Until later.