Let us review the player role inverted wing back in FM. Also I would like to share the FM22 best inverted wing backs on the bottom of this page. So, get you pen and paper, because we are starting with the role explanation.
FM back roles:
Definition of FM inverted wing back:
The inverted wing back will function defensively much like a standard full back or wing back. However, while a normal wing-back will offer width to an attack, the inverted wing-back (when he has a player ahead of him and where there are fewer than two defensive midfielders) will attempt to drift inside and create space for players around him.
If there is no team mate ahead of him on his side of the pitch then the inverted wing-back will look to support attacks in a more traditional manner, when there is, he will look to affect play in the middle of the pitch as much as possible.
With a defend duty, the inverted wing back will hold his position and sit deeper whilst fulfilling his defensive responsibilities, either out wide or further inside the pitch depending on the system around him.
The support duty inverted back will look to cut inside with the ball, and either drift inside from the flank or move into a more central position to support the play depending on the system around him.
With an attack duty, the inverted wing back aims to cut inside and adventurously support the attack by drifting inside from the flank or from a more central position depending on the system around him.
Finally the automatic duty will make player to choose the best duty according to games tempo.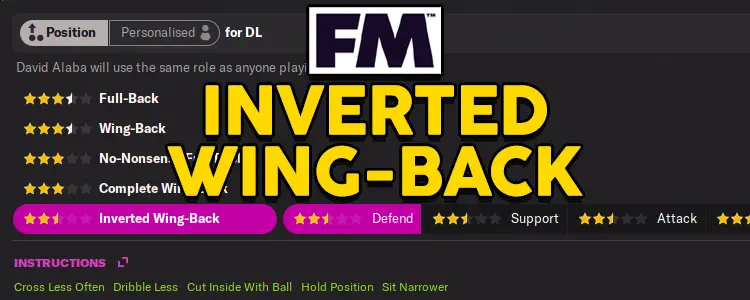 Inverted wing backs must be really fast and have high stamina. Because they always go back and forth to support their teammates. So, look for durable fast players with high work-rate. Also the dribbling and technique is really important for this role.
FM inverted wing back preferred traits:
Runs with ball down right / left.
Moves into channels.
Plays one-twos.
FM 2022 Inverted Wing Backs
Best world class inverted wing backs that will carry your team to success. Also the full back wonderkids with tremendous potentials.
FM22 Best Inverted Wing Backs
Jonny: Versatile back player of Wolves. Natural born inverted wing back.
Luke Shaw: Manchester United's left full back player. Can handle inverted wing back role with great success.
Andrew Robertson: Scottish devil with super strong physique.
Max Aarons: Young star of Norwich. Still have some potential.
Kieran Tierney: Another Scottish inverted wing back. Mentally he is the best.
FM 22 Inverted Wing Back Wonderkids
Best full back wonderkids to develop into worlds greatest inverted wing backs:
Maxim Mukhin
Moises Caicedo
Ruslan Litvinov
Joris Chotard
Alejandro Frances
Vinicius Tobias
Nathan Patterson