FM22 best complete wing backs are listed on the bottom of this page. Also I would like to explain complete wing back role in FM. Basically it is a full back role with both attack and defence capabilities. Of course this requires a really strong physique and stamina combined with work rate.
Other back roles in FM:
Definition of complete wing back:
The complete wing back loves to attack, and whilst he is capable of occupying his defensive duties, his natural inclination is to affect the game in the opposition's defensive third by roaming from his position.
With a support duty, the complete wing back will look to combine his attacking instincts with some defensive responsibilities in an effort to provide balance to the team.
With an attack duty, the complete wing-back will be a little more adventurous in his attacking exploits as he seeks to primarily impact the game in the opposition's half of the pitch.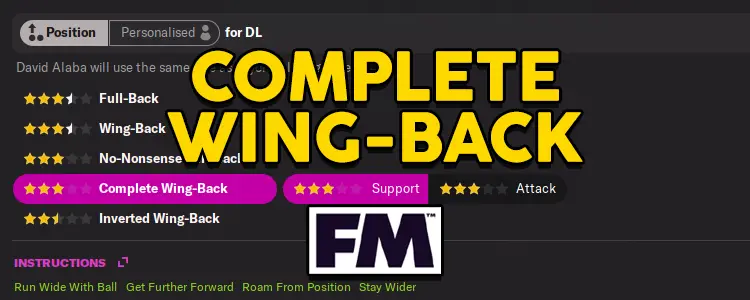 Stamina, pace, acceleration, work rate, and dribbling are the most important stats to look for in a complete wing-back. They are pretty offensive backs. Because of that, you need to have three defenders in the middle to cover for them. Or two defenders and one defensive midfielder. It is up to you.
Complete wing back preferred traits:
Gets forward whenever possible.
Runs with ball down right / left.
Brings ball out of defence.
Moves into channels.
Plays one-twos.
Hugs line.
FM 2022 Complete Wing Back Recommendations
Complete wing back role requires amazing work ethic, dribbling abilities, technique, crossing, and off the ball. Also these guys must have a good chemistry and play experience with their partner in the respective wing positions.
I know this role is highly demanding. But it is super important in the modern football and the most big clubs are using complete wing backs.
Here is the best complete wing backs. They are really good players. However, they're also equally expensive.
FM22 Best Complete Wing Backs
Trent Alexander-Arnold: Let's start with the Liverpools superstar. I would say he is probably the best full back of our era.
Joao Cancelo: Manchester City bought him for 65mil and ever since, he is the main 11 complete wing back player of City.
Dodo: Young, Brazilian, and natural born complete wing back player of Shakhtar.
Jose Gaya: 26 yo left full back of Valencia. He can also play left wing, that is what makes him a good complete wing back.
Tariq Lamptey: 20 acceleration? He is one of the fastest complete wing back in the world.
FM22 Complete Wing Back Wonderkids
Aaron Hickey: 19 yo left full back of Bologna, super high potential.
Yan Couto: Brazilian right wing back, on loan from Man City.
Calvin Ramsay: Right full back from Aberdeen. Since he is playing in the Scottish league, you can buy him for a good price.
Tino Livramento: You probably know him already. Because he is the highest potential right full back player of FM 22.
Josko Gvardiol: Croatian left full back of Leipzig. He can play in centre back too, as a ball playing defender.
Nuno Mendes: Promising left full back on loan from Sporting. Super expensive.
Devyne Rensch: Super versatile Dutch wonderkid from Ajax U18 academy. Cheap too!