Full back in FM is probably the best role. However, this role is highly demanding and you need to have really good squad to fully enjoy its benefits. But if you have the budget, don't worry at all. Because I will also share the best FM22 full back players on this page. Let's get start with the definition.
Other side defender roles in FM:
FM full back explained:
The full back is a key player in modern football, having to supplement his traditional defensive duties with overlapping runs down the wing to support forward play and help attacks overload the final third.
Although primarily a defensive player, he must be prepared to get forward when the team needs extra width.
In defend duty, the full back will stay back with the defensive line and make simple possession passes down the flanks or into central midfield.
With a support duty, the full back will support the midfield by providing extra width and will look for crosses and through balls when the opportunity for each arises.
In attack duty, the full-back supplements his defensive responsibilities by overlapping the midfield and providing first time crosses into the area.
Finally with an automatic duty, the full back will switch automatically between defend, support and attack duties according to current mentality.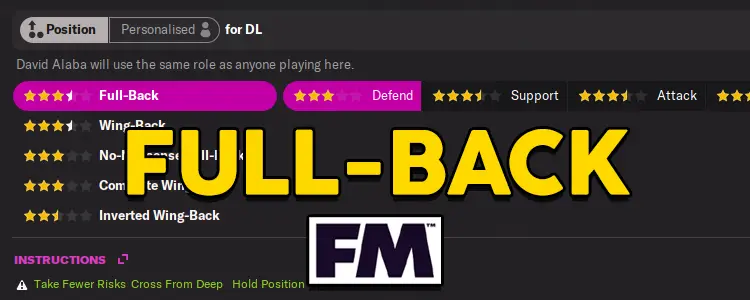 In support duty, full back supports his winger but doesn't really participate in the attack organizations. In that case, he doesn't necessarily have to be fast. But in attack duty, full back must have high acceleration, agility, and pace in addition to his defensive abilities. That is why top class attacking full back players are hard to come by.
Good player traits on FM full back role:
Runs with ball down left / right.
Arrives late in opponents' area. (Support duty.)
Plays one-twos.
Crosses early. (Support duty.)
Moves into channels.
FM 22 Full Back Transfers
There are many defender right and left players in football. However, only a handful of them can handle the duties of modern full back. I have listed the best ones below. But keep in mind, they are pretty expensive.
FM22 Best Full Backs
Reece James: Star right back player of both Chelsea and English National Team.
Ben Chilwell: Looks like Chelsea got the best right and left backs…
Dodo: 22 years old Brazilian Shakhtar player. Can do premier league easily in the future.
Luke Shaw: Left back player of Manchester United.
Andrew Robertson: 27 years old Scottish left back from Liverpool. He has an amazing physique and top notch work ethic.
FM22 Full Back Wonderkids
Joško Gvardiol: 19 years old Croatian wonderkid of Leipzig.
Devyne Rensch: 18 yo youngster of Ajax. Can play both right back, left back, center back, and defensive midfielder.
CJ Egan-Riley: Promising star of Manchester City.
Melayro Bogarde: Versatile Dutch wonderkid of Groningen who can play both center back and left back.
Kluiverth Aguilar: Peruvian wonderkid of Lommel SK who can be bought for a small fee.
Joel Bagan: Irish left back player of Cardiff.
Taylor Gardner-Hickman: Young English from West Brom. Right full/wing back.