Here is the list of best Turkish players and wonderkids in CM 01 02. In past, I have already shared the best CM 01 02 players list. But now is the time for best players with Turkish nationality.
I have decided to do this list because Turkish division have foreign player restrictions. That is highly limiting in terms of transfer options. Without scout or pre-knowledge, finding good Turkish players to transfer is hard. Therefore I decided to make a list and share it with you guys. You can also remove foreign player limit from the game but that is another days topic.
Most wonderkids and world class Turkish players are included in this list. Since most of them aren't really expensive, you can transfer many players from this shortlist.
CM0102 Best Turkish Players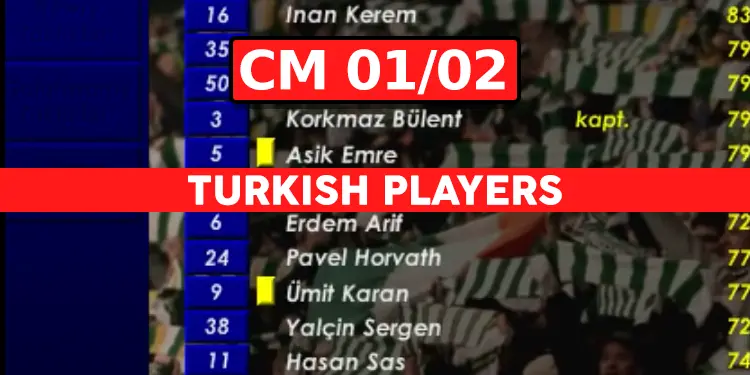 CM0102 Turkish players:
| | |
| --- | --- |
| Fatih Sonkaya | Suat Usta |
| Uğur İnceman | Volkan Arslan |
| Evren Turhan | Bakırcıoğlu |
| Mujdat Karagoz | Hasan Kabze |
| Tuncay Şanlı | Kemal Aslan |
| Celil Sağır | Alpay Özalan |
| Egemen Korkmaz | İbrahim Said |
| Ali Güneş | Volkan Demirel |
| Erhan Albayrak | Hamit Altıntop |
| Veysel Cihan | Furkan Baştan |
| Fevzi Tuncay | Güngör Öztürk |
| Hakan Ünsal | Ayhan Akman |
| Emre Belözoğlu | Deniz Kolgu |
| Gökhan Tokgöz | Ahmed Gürsever |
| Zafer Akkaş | Yıldıray Baştürk |
| Okan Koç | Ali Tandoğan |
| Rüştü Reçber | Serhat Akın |
| Sergen Yalçın | Okan Buruk |
That was all. These guys should be enough to fill at least two squads. Now your Turkish team can achieve success in both Turkish League and European tournaments. You are good to go. In addition, you can use CM0102 scout tool to find more players yourself. Remember, Turkish division have foreign player limit and that makes Turkish players highly valuable. So, don't sell them for lower bids. Of course you can remove foreign player limit in CM 01 02 too. Looks like you have many options.
Also you can edit players nationalities with CM 0102 editor. However, that would be a hardcore CM0102 cheat and I wouldn't recommend you to do it.
---
Thank you for reading. I hope these players help you win many games and cups. Don't forget to join our discord channel and leave a nice comment below. Catch you later!