Here is my review of the wing back role in FM series. Also you will find the best FM 22 wing backs on the bottom of this page, including wonderkids. So, let's get started, shall we?
Other FM defender right/left back roles:
FM wing back role:
Usually playing out wide with no wing support, the wing back must fulfil all the attacking and defensive duties of wingers and full backs.
In attack he must be prepared to run at his man and put in aggressive crosses, in midfield to help win the possession battle and in defence to close down opponents, block crosses and win back the ball when possible.
With a defend duty, the wing back mainly stays deep, but will still cross the ball when in space to do so.
Support duty wing back aims to provide angled through balls from out wide, although still crosses when the opportunity arises.
With an attack duty, the wing-back aims to overlap down the flank to provide wide supports for attacks, run at his man and get crosses in from the byline.
In automatic duty, the wing back will switch automatically between defend, support, and attack duties.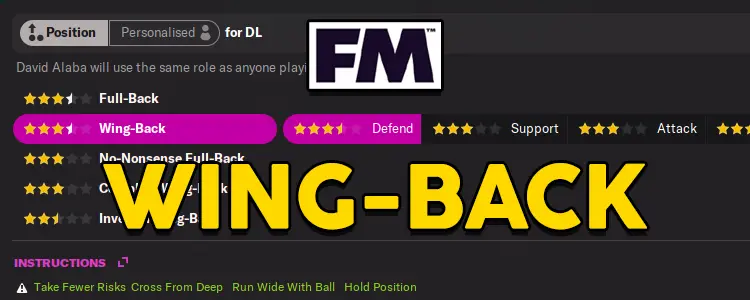 Since wing-back is mostly used in the no-winger tactics, wing backs must fulfill both offensive and defensive duties. Which is pretty hard to do so. That is why wing back players must have good physical attributes and high ability.
If you looking to transfer or develop wing back player, always focus on stamina, work-rate, positioning, and tackling. Also remember the strong physique is important therefore avoid signing old players for this highly physical demanding role.
Wing back role good player traits:
Gets forward whenever possible.
Runs with ball down right / left.
Moves into channels.
Plays one-twos.
Hugs line.
FM 2022 Wing Back Recommendations
FM 22 best wing back players listed below. They are bit expensive though. But good players are always costly as you already know.
FM22 Best Wing Backs
Achraf Hakimi: Right wing-back superstar of PSG. 20 pace is brilliant.
Reece James: Young right back star of Chelsea. They have the best back players…
Luke Thomas: Build for wing back role with his amazing physique.
Trent Alexander-Arnold: Probably the worlds best full back player.
Ben Chilwell: Star left back player of Chelsea.
FM22 Wing Back Wonderkids
Tino Livramento: Best right back wonderkid of the world.
Josko Gvardiol: Croatian left back wonderkid.
Nuno Mendes: Another amazing wing back youngster from PSG.
Luca Netz: Mönchengladbach's 18 years old left wing back German tank.
Miguel Gutierrez: Promising star of R. Madrid B team.