Welcome to my FM player role review, episode no-nonsense full-back. This is one of the most defensive role you can imagine in football. In the 90s, all full backs were no nonsense full backs. But now, full backs must join the attacking organizations too. Football is changing, like everything else in our lives. Anyway let us review the FM no nosense full back role.
FM other full back roles:
No nonsense full back definition:
The no nonsense full back knows his strengths and weaknesses and focuses predominantly on his defensive duties, scarcely going forward into a more attacking role.
The no-nonsense full-back is only available with a defend duty.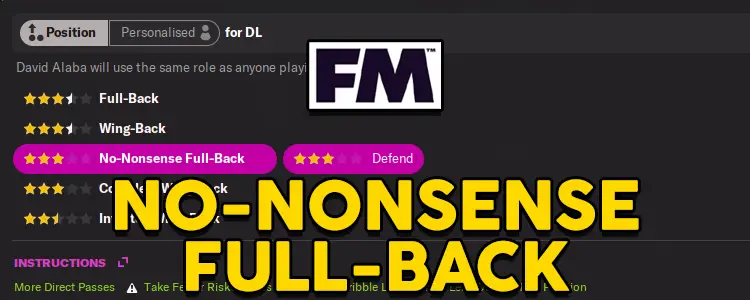 No-nonsense full-back never leave its position in the defense. Also fully focuses only defense only. So, don't expect him to join attacking positions, or supports the winger in front of him. That is why, always look for tackling, heading, marking, strength, jumping, and speed attributes on a no-nonsense full-back.
This role does not have a place in big clubs or modern football. Still, it is useful for playing defensive against big clubs. Especially if you are playing a small club.
No nonsense full back traits:
Marks opponents tightly.
Stays back at all times.
Dives into tackles.
FM 22 No Nonsense Full Back Transfers
I have managed to find best players in the no nonsense full back role. Also the top 5 no-nonsense full-back wonderkids can be found below.
FM22 Best No Nonsense Full Backs
Reece James: 21 years old right full back star player of Chelsea.
Ben Chilwell: Chelsea's other full back player, this time for left side.
Dodo: Star player of Shakhtar. I think he can play in a much bigger division.
Luke Shaw: English player of Manchester United. He is player for Manchester since 2014 / 2015 season.
Odilon Kossounou: 20 years old Ivorian talent who can play in both right full back and centre back positions.
FM22 No Nonsense Full Back Wonderkids
Joško Gvardiol: Super left full back talent of Leipzig football academy.
Devyne Rensch: Versatile youngster of Ajax who can play in many positions. Such as left full back, right full back, center defender, and defensive midfielder.
Callum Doyle: Man City thinks he have a huge potential. They aren't wrong either.
Sepp van den Berg: 19 years old versatile Dutch player. On loan from Liverpool.
Matthew Bondswell: Cheapest and the last player on this list. He is currently on loan from Newcastle but can be bought for 1m.
---
Thank you for reading this FM guide article. If you want to learn more about the roles, visit our FM player roles category. You can also use the search tool in our web-site to look for a specific position.
I did all I can. Now it is your turn. Leave a nice comment below and join our discord channel if you want to support us. See you soon, bye for now.