FM22 best wide midfielders are listed on the bottom of this page. Also you can learn everything you need to know about FM wide midfielder role by reading this article. I hope this guide provides you with some insight. So, let's start the discussion.
FM wide midfielder role definition:
The wide midfielder performs defensive and attacking duties on the flanks, supporting the forwards, midfield and defence when required.
Generally lacking either the explosive pace or exciting dribbling skills of out-and-out winger, the wide midfielder relies on teamwork and work rate to get into dangerous attacking positions without compromising his defensive responsibilities.
In defend duty, the wide midfielder will sit back and launch crosses from deep.
With a support duty, the wide midfielder will stay deeper and play angled through balls into the box from wide positions, although he will still cross when it is on.
With an attack duty, the player looks to play quick crosses in from the final third.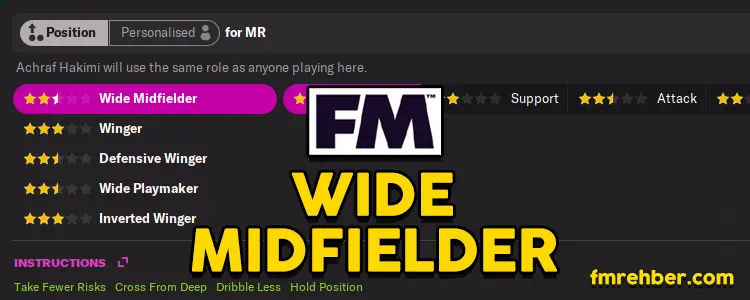 Since wide midfielders perform defending duties as well, they must have a little bit of tackling. But wide midfielder is still a winger. So, stamina, work-rate, teamwork, first touch, crossing, decisions, and technique are the most important attributes.
It is basically a winger role for players that are not fast and good dribbler.
Best wide midfielder traits:
Crosses early.
Plays one-twos.
Stays back at all times. (Defend duty.)
Gets forward whenever possible. (Attack duty.)
FM22 Best Wide Midfielders
5 top tier and 5 wonderkid wide midfielders of FM22. These players amazing at wide midfielder role. However, they aren't cheap or easy to transfer.
Koke: 29 years old, can play both left and right sides, club A. Madrid.
Marcos Llorente: 26, right, A. Madrid.
Adrien Rabiot: 26, left, Juventus.
Jose Gaya: 26, left, Valencia.
Stuart Dallas: 30, left/right, Leeds.
Nico Williams: 18, left/right, A. Bilbao.
Yunus Musah: 18, right, Valencia.
Mohamed Ihattaren: 19, left/right, Ajax.
Dylan Williams: 17, left, Chelsea.
Jordan James: 17, right, Birmingham.