Defensive winger is not a popular role in FM or real life football. Still, some managers assign this role from time to time in specific formations.
I guess you are on of them. So, let's discuss everything about about defensive winger.
Other midfielder left and right roles in FM:
FM defensive winger role definition:
The defensive winger aims to press the opposing full backs, win back the ball high up the pitch and either hold it up for the rest of the team, drive to the byline or get in a quick cross or through ball for the forwards.
With a defend duty, the defensive winger's job is to primarily provide insurance for the defenders behind him, working diligently to reduce the threat posed by opponents in his area of the pitch and to break up attacks higher up the pitch.
With a support duty the defensive winger's job is to try to win the ball, get past his man and get in an early cross for the forwards.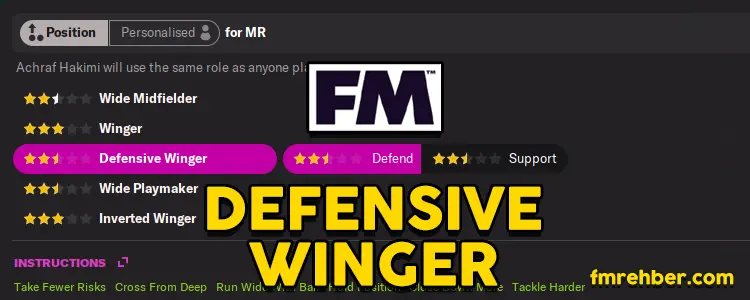 Since it is a defensive role, attributes such as marking, tackling, acceleration, anticipation, positioning, and off the ball are highly important.
Passing, crossing, and composure is not important for defending duty, but for support duty they are necessary.
FM22 defensive winger preferred traits:
Crosses early.
Dictates tempo. (High work-rate + stamina.)
Brings ball out of defence.
Refrains from taking long shots. (Low long shot.)
Looks for pass rather than attempting to score. (Low finishing + composure.)
Best FM22 Defensive Wingers
Top class and wonderkid defensive wingers of FM22 listed below. Here is my top 10 defensive winger list, enjoy.
Alexis Saelemaekers: Natural born right defensive winger of Milan. Only 22 years old.
Koke: Left defensive winger of A. Madrid.
Saul: Another player from A. Madrid. But this one can play in defensive midfielder, midfielder, and left winger positions.
Lucas Vazquez: R. Madrid's 30 years old right winger. Great work rate.
Jeffrey Schlupp: Determined Ghanaian left winger of Crystal Palace.
Moussa Sissoko: Watford's 31 years old right winger / midfielder. He has monster like physique and 18 work-rate.
Marcos Acuna: Sevilla's super versatile player who can play left side of the pitch. Left full back, left wing back, left midfielder, and left attacking midfielder.
Yunus Musah: Valencia's 18 years old American wonderkid who can play at right wing.
Nico Williams: Can play in both right and left wings. 18 years old.
Adam Montgomery: Another 18 years old player who can play at the left wing.