Wide playmaker role in FM explained. Everything you need to know about this role including important attributes, must have traits, and best wide playmakers can be found on this article. So, thank you for tuning in, let's get started.
Other midfielder left and right roles in FM:
FM wide playmaker role:
The wide playmaker will act as the team's primary source of creativity, drifting inside to find space from which to play the killer ball and create chances. Coming in from the wing allows the wide playmaker to escape the hustle and bustle of central midfield and can result in him being unmarked by opposition players.
Defensively the wide playmaker will take up his position on the wing to provide cover for his full-back; however, he is not expected to make too many tackles but instead he should take up good defensive positions and provide another body in the defensive line.
With a support duty the wide playmaker will come inside to sit in a central midfield position when his team have the ball. From here he will act as the main creator for his style.
With an attack duty the wide playmaker will come inside to sit in an advanced midfield position between the opposition's defence and midfield. From here he will act as the main creator for his side. This may result in the wide playmaker being caught upfield and unable to get back into position for the defensive phase.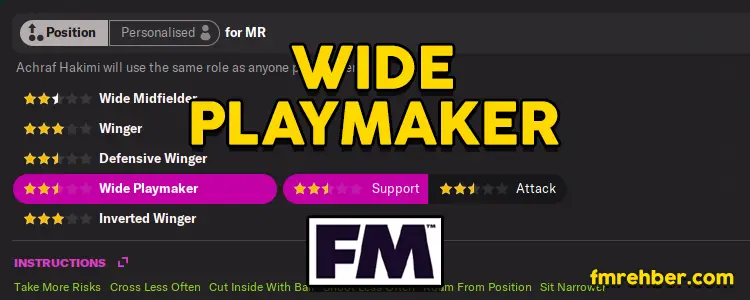 Don't have any creative players on your MC or AMC positions? Then assign wide playmakers to the sides. Because without a playmaker, your players will have a hard time creating good attack organizations.
Since it is a playmaker role, most important attributes are passing, vision, decisions, composure, and technique. Also a little bit of teamwork.
Physical stats doesn't really matter at playmaker roles. Therefore you can assign old-age players to this role without worry. Besides the older the player, the better his mental / technique attributes will be.
Best traits for FM wide playmaker:
Tries long range passes.
Tries killer passes.
Dictates tempo.
Likes to switch ball to wide areas.
Comes deep to get ball.
FM22 Best Wide Playmaker Players
I have complied some of the best players and best players to be wonderkids. Best FM22 wide playmakers:
Neymar: He has all the qualities of world class wide playmaker. Except, team-work…
Riyad Mahrez: Superstar of Manchester City, with 20 first touch.
Angel di Maria: Most underrated world class football player.
Jack Grealish: English soccer fans favorite player.
Raphinha: Brazilian superstar of Premier club Leeds.
Nico Williams: 18 years old fairly determined winger of A. Bilbao.
Yunus Musah: American wonderkid player of FM22.
Nico Serrano: Another wonderkid from A. Bilbao.
Adam Montgomery: 18 years old Scottish left winger of Aberdeen, currently on loan from Celtic.
Jordan James: Welsh right wing wonderkid from Championship.