Winger is the key attacking position in football. So, let's review the winger role in both real-life football and FM series.
I want to start explaining the role definition first. After you learn the basics, scroll down to find preferred winger role traits and best wingers in FM22.
FM winger role:
The winger aims to beat his man on the outside and needs to be technically proficient as well as quick in order to do so.
The winger hugs the touchline when the team is going forward, ready to surge into space and attack the byline.
With a support duty the winger's job is to try to quickly get past his man and get in an early cross for the forwards.
With an attack duty the winger will try to run at the defence in the final third, aiming to cause panic and indecision prior to shooting or attempting to make a through ball/cross to a team mate.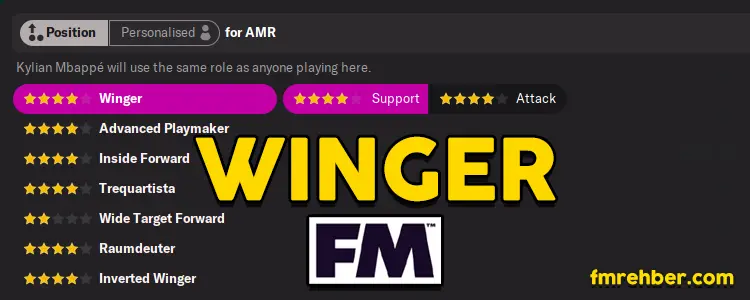 Winger players must be fast. There is no arguing that. Acceleration, agility, pace, and stamina should be the first attributes you look in a winger. Other attributes are also matters but physique is everything for a winger and must be the main priority.
Rest of the important abilities are off the ball, dribbling, and technique. I also like to have good flair on my wingers because of the unpredictability factor. A winger should be able to move past his opponents.
Best FM player traits to have on winger role:
Plays one-twos.
Moves into channels. (Good off the ball.)
Knocks ball past opponent.
Cuts inside from left / right / both wings. (Dribbling, agility, acceleration, pace.)
Runs with ball often. (Dribbling, agility, acceleration, pace.)
Tries tricks. (Flair.)
Best FM22 Wingers
FM22 best players in the winger role listed below. Good luck in signing them though, because quality is expensive!
Raheem Sterling: He is the best winger in FM22. Besides he can play in both sides.
Leroy Sane: Another elite winger. Almost as great as Raheem Sterling.
Willian: 32 years old winger of Corinthias. Even though he is old, he has a great physique thanks to his high natural fitness.
Rodrygo: 20 years old wonderkid of R. Madrid. Without a doubt he will be the worlds greatest winger in the future.
Bryan Gil: Valencia's 20 years old wonderkid, on loan from Tottenham.
Adama Traore: Right wing stallion of Barcelona. 20 acceleration + 20 stamina = beast Traore.
Jamal Musiala: 18 years old left winger of Bayern Munich. Huge potential.
Bukayo Saka: Half English half Nigerian wonderkid of Arsenal. Can play in both sides.
Liel Abada: Natural born right winger of Celtic. Israeli wonderkid.
Harvey Elliott: Liverpool's 18 years old wonderkid, currently in development.
Ansu Fati: Barcelona's 18 years super star in the making.