Welcome to my review of inside forward role in FM. This role is a bridge between winger and striker. Therefore requires specific set of skills. Such as scoring, speed, flair, and stamina.
You can also find the best inside forward players of FM22 at the bottom of this page. They are pretty expensive though.
FM rest of the winger roles:
FM inside forward role:
The inside forward aims to cut inside from the flanks and run directly at the centre of the opposition's defence and works best when the player's strongest foot is opposite to the flank he is playing on.
This movement can open up space for overlapping full backs as well as overloading a retreating defender, although it can also end up with the player running into cul-de-sacs.
With a support duty the inside forward will cut diagonally into the space behind the defence and play through balls or take long shots if the opportunity arises.
With an attack duty, the inside forward will run directly at the defence with the options of shooting, passing or crossing as he moves into the final third.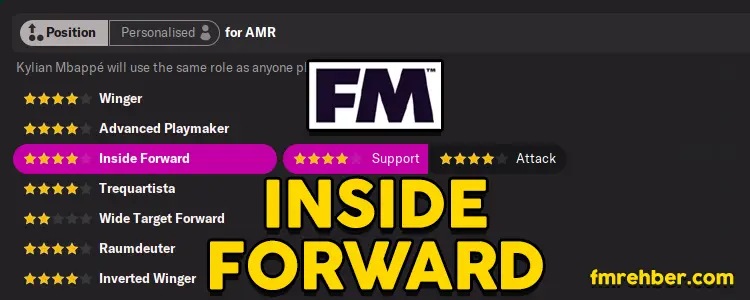 Inside forward must be physically strong and fast to cut inside from flanks. Of course finishing and composure are also important. It is a forward after all and must score goals.
Do you have great playmakers with high vision and passing attributes? Then better make sure your inside forwards are good at off the ball in order to receive killer balls.
FM inside forward best player traits:
Cuts inside from both wings / right / left.
Places shots.
Moves into channels.
Gets into opposition area.
Knocks ball past opponent.
Shoots with power.
FM22 Best Inside Forward Players
Best FM22 inside forwards are listed below. Including the best inside forward wonderkids. So, let's get started shall we?
Kylian Mbappe: Without a doubt the worlds best inside forward. In both FM and real life football.
Mohamed Salah: Liverpool's superstar right wing inside forward.
Sadio Mane: Another Liverpool superstar inside forward, but this time left wing.
Riyad Mahrez: Algerian right inside forward of Man City.
Memphis Depay: Dutch left inside forward from Barcelona.
Vinicius Junior: Worlds greatest wonderkid.
Rodrygo: Another inside forward wonder from R. Madrid.
Francisco Conceiçao: Porto's right winger inside forward wonderkid. Great physique and flair.
Amad Diallo: Man Utd's super fast Ivorian winger. Currently playing for Rangers on loan.
Adam Hlozek: Czech wonderkid of Sparta Prague. Probably the cheapest option on this list.