Trequartista is an Italian word meaning three quarters. A bridge between playmaker and striker to be specific. It is a highly effective attacking role. However, trequartista players never help their team in defending. So, rest of your team better carry him when your opponent have the ball.
Other wing roles in FM:
FM role trequartista explained:
The trequartista can operate in the attacking midfield or centre forward positions.
While similar to the advanced playmaker in that he aims to drop into holes between the opposition's midfield and defence, the Trequartista does far less defensively and simply drifts around looking for space when the team is not in possession.
As such, the rest of the team needs to carry him when defending, but use him as the main outlet when attacking.
The trequartista is only available with an attack duty.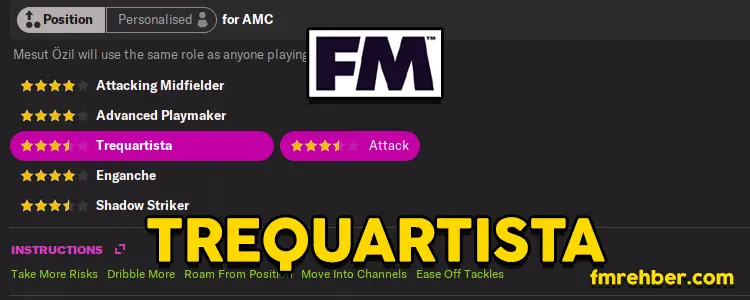 Trequartista is a bridge between advanced playmaker and inside forward. It does both of these roles. However, completely ignores the defensive duties. Leaving your team 10 person during defence.
Trequartista scores many goals and assists. As you can see, this role have it's pros and cons. So, better make sure to use trequartista only if your player have world-class abilities.
Best traits for FM trequartista:
Places shots.
Moves into channels.
Plays one-twos.
Tries killer passes.
Dictates tempo.
Likes to switch ball to wide areas.
FM22 Best Trequartista Players
Top class trequartista players. FM22 best trequartistas are listed below for both left and right sides of the field.
Lionel Messi: Alien Messi is the best Trequartista of world. Even at the age 34.
Riyad Mahrez: Algerian elite winger of Man. City.
Mohamed Salah: Peoples favorite, Egyptian key player of Liverpool is great at trequartista role.
Neymar: Even though most football fans hate him, he is still one of the best trequartista players.
Phil Foden: Young superstar of Manchester City.
Amad Diallo: Ivorian right wing wonderkid of Rangers. Fast as wind. On loan from Man Utd.
Yeremy Pino: Versatile Spanish wonderkid of Villarreal. Can play on both sides.
Nico Williams: Another Spanish wonderkid, right winger of A. Bilbao.
Filip Stevanovic: Serbian winger of Man City. Currently on loan at Heerenveen.
Roony Bardghji: 15 years old Swedish wonderkid. I expect him to be the worlds greatest in the future.